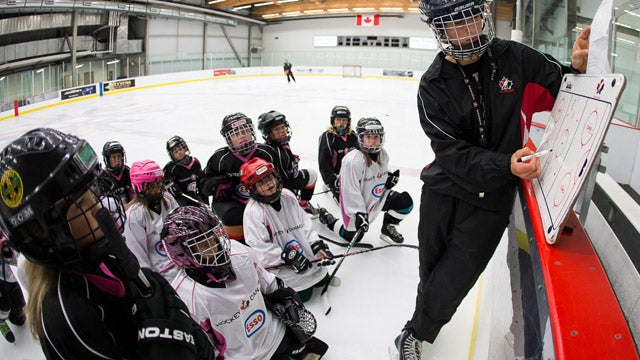 The Hockey Canada coaching programs are designed to provide coaches with the tools necessary to improve athlete development. Whether it is certification programs, on-line learning, specialty clinics, mentorship or high performance, ultimately the goal is to provide the player with the best possible experience. Coaches are encouraged to continually hone and build on their current skills by entering the National Coaching Certification Program (NCCP).
Why do I want to become a female hockey coach?
• create a positive and dynamic environment for the participants
• allow for the opportunity to be a role model and make a difference in the lives of others
• be a positive influence and develop good people and good athletes
• give back to the community
• develop and improve leadership skills
• for the love of the game
---
We Are Coaches
We are Coaches is an initiative provided by Hockey Canada in partnership with our members, designed to increase the number of trained female coaches in Canada in order to provide mentors and role models for young participants.
CLICK HERE for more information on We Are Coaches.
---
Trainers
With the growth of female hockey more teams need to find trainers, more specifically female trainers.
CLICK HERE for more information on the Hockey Canada Safety Program
"I coach hockey because I love the game and never want to stop learning about hockey or life. I take something away from every practice, game and event. Being a coach I get to see firsthand, hockey players becoming not only great athletes but, more importantly, solid people in this world."
– Melody Davidson,
Head Scout
–
---
"I coach hockey because I love the game and the people who are involved in the game. I love to watch the development that occurs both on and off the ice with the student-athletes that I get to work with on a daily basis."
– Sarah Howald, head coach, University of Regina Cougars –