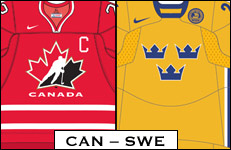 CANADA 2 - SWEDEN 1
BRONZE MEDAL | JAN. 5
Canada captured IIHF junior bronze in thrilling fashion, as Raffi Torres scored the winning goal 0:37 into overtime. Canada trailed by a goal after the first period, tied the game in the second and sealed the 2-1 victory early in the extra frame.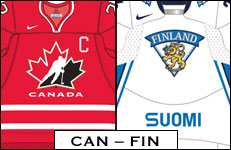 FINLAND 5 - CANADA 2
SEMIFINAL | JAN. 3
For the second year in a row, Canada's junior hockey players will play for bronze, shower, and watch others play for precious gold as they wonder what might have been. Canada will meet Sweden in the game to decide third and fourth places.