BFL Female Coach of the Year
---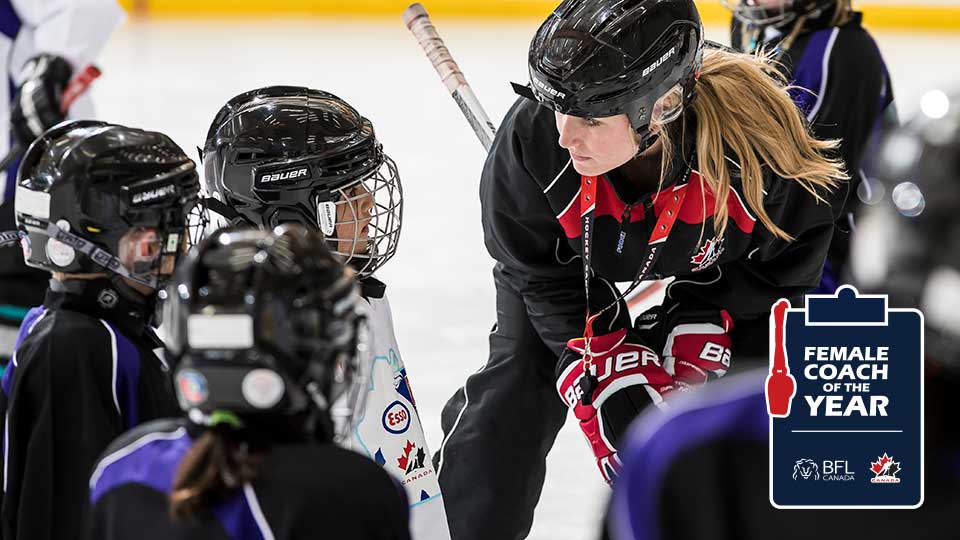 There is arguably no more important role in hockey than that of the coach, who is tasked with guiding young players not only on the ice, but off it as well. They are leaders in hockey, and leaders in life.
Hockey Canada and BFL Canada are on the hunt for the country's best women's hockey coaches, and it is calling on players and parents from coast to coast to coast to nominate coaches who have made significant contributions to the game.
What can my coach win?
Twenty-two provincial and territorial winners will be selected – two from each of the 10 provinces, and two from the northern territories. Each province/territory will have one grassroots winner and one high-performance winner. Those winners will receive $1,000 each.
From that group of 22, two coaches – one grassroots and one high-performance – will be named national winners and both will receive a trip to the IIHF Women's World Championship, March 31 to April 10 in Halifax and Truro, N.S. plus $2,500.
Who is choosing the winners?
The selection committee includes a trio of Canadian women's hockey leaders – Olympic gold medallists Cassie Campbell-Pascall, Gina Kingsbury and Caroline Ouellette. They are joined by Steve Lacoste, vice-president of sports and leisure with BFL, and Teal Gove, manager of hockey development with Hockey Canada.
About BFL Canada
Founded in 1987 by Barry F. Lorenzetti, BFL Canada is one of the largest employee-owned and operated risk management, insurance brokerage and employee benefits consulting services firms in Canada. The firm has a team of over 700 professionals located in 18 offices across the country. BFL is a founding partner of Lockton Global LLP, a partnership of independent insurance brokers who provide risk management, insurance and benefits consulting services in over 130 countries around the world. For more information, visit bflcanada.ca or follow on LinkedIn, Twitter and Facebook.