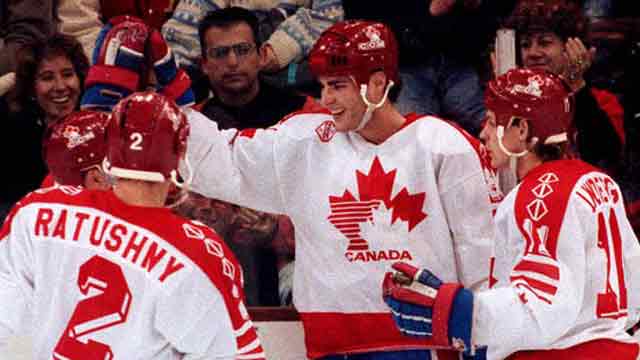 by Wendy Graves
1992 – CANADA 6, SWITZERLAND 1

Eric Lindros announced his arrival in Albertville, scoring twice and adding two helpers, as Canada defeated Switzerland. After an under-the-radar performance in Canada's first game of the Games two nights earlier, Lindros – still a few weeks shy of his 19th birthday – made his physical presence felt with several big hits.
Canada also got two goals from Joe Juneau and one each from Gord Hynes and Wally Schreiber.
Lindros had been drafted by the Quebec Nordiques the previous spring, but refusing to sign with the NHL team, he joined the national team instead. His first of eight career Olympic goals came on the power play just over three minutes in when he powered his way to the net to deflect Juneau's initial shot.
His physical presence was a game-changer. "Eric was a big, strong kid," says Hynes. "He was strong below the hash marks and in front of the net, and had loads of presence that everybody else was concerned about."
Three goals in under three minutes early in the second broke the game open. Juneau scored his second late in the period to give Canada a 5-0 after 40 minutes over an opponent they admittedly knew little about before watching video the day before. "We certainly didn't go in blind," says Hynes. "[Coach Dave] King and his staff had us super well prepared."
The Swiss broke up Sean Burke's shutout in the opening minute of the third, before Hynes finished off the scoring in the closing minutes of the game with a slap shot that beat the goalie glove side.
The extra media attention that followed Lindros was not unwelcomed by his teammates. "Back then the Canadian Olympic Team didn't have the big limelight like it does today with the NHL players going to the Olympics," says Juneau. "When we have Sean Burke and then Eric Lindros joining the team, it brought a lot of positives to our team on and off the ice."
And the Games, overall, gave Juneau an experience he still appreciates. "Even though I played 13 years in NHL and went to Stanley Cup Final twice, the Olympic Games in 1992 are the highlight of my hockey years as a player."
OTHER GAMES
1936 – In one of the greatest upsets in Olympic hockey history, Great Britain defeats Canada 2-1, and hands the four-time defending champion its first-ever Olympics loss. Edgar Brenchley beats goaltender Dinty Moore for the game-winner with only 72 seconds left.