MILLER SCORES TWICE TO LEAD U18 WOMEN TO WIN OVER QUEEN'S UNIVERSITY
ETOBICOKE, Ont. – It only took about two minutes for Queen's University to catch Canada's National Women's Under-18 Team off guard and put a goal up on the scoreboard. But that's all the red and white would allow for the remainder of the game Sunday evening, with a shaky start turning into a strong 5-1 win in what was their first time playing together as a team.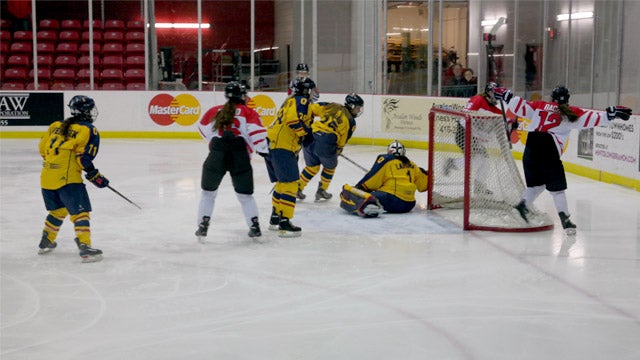 The exhibition match-up was hosted at the MasterCard Centre as part of Team Canada's pre-competition schedule before heading to Budapest, Hungary, for the 2014 IIHF Ice Hockey U18 Women's World Championship, taking place March 23-30.
Victoria Bach (Milton, Ont./Mississauga, Ont.) replied for Canada midway through the opening frame, with Sarah Potomak (Aldergrove, B.C./Pursuit of Excellence, Midget AAA) assisting, to keep it even at 1-1 going into the first intermission.
The two linemates combined to make it 2-1 at 18:10 of the second period, this time with Bach feeding Potomak on the power play. Eve-Audrey Picard (Longueuil, Que./St-Laurent, CEGEP) notched an unassisted marker at 12:05 in the middle frame to make it 3-1, and penalties continued to cost Queen's, with Team Canada returnee Hannah Miller (Vancouver, B.C./Okanagan Hockey Academy, JWHL) adding another goal with the advantage to close out the period with a 4-1 lead, on a Samantha Fieseler (Kelowna, B.C./Pursuit of Excellence, JWHL) helper.
Miller topped it off at 6:56, on an assist from Breanne Wilson-Bennett (Markham, Ont./Toronto, PWHL), to give Canada the win over the Canadian Interuniversity Sport (CIS) side. Kassidy Sauvé (Brooklin, Ont./Whitby, PWHL) and Shea Tiley (Shallow Lake, Ont./Waterloo, PWHL) split netminding duties for the under-18 women, turning away 14 pucks over three periods.
Canada's National Women's Under-18 Team takes on Japan in its first preliminary game at worlds Sunday, March 23, with the puck dropping at 6 p.m. local time/1 p.m. ET. Follow all the action from Budapest live at www.twitter.com/hc_women.


Game Information/Renseignements sur le match
Game #/No. de match
1
Round/Ronde
Exhibition
Arena/Aréna
MasterCard Centre
Location/Lieu
Toronto, Ont.

Date
Sunday, March 16, 2014
Time/Heure
7:45 p.m. ET

| Box Score/Compte | 1 | 2 | 3 | Total |
| --- | --- | --- | --- | --- |
| CAN | 1 | 3 | 1 | 5 |
| QU | 1 | 0 | 0 | 1 |
Goals & Penalties/Buts et pénalités
First Period/Première période

Goals/Buts :
02:05 QU Shawna Griffin (Marie-Pierre Pelissou)
10:18 CAN Victoria Bach (Sarah Potomak)

Penalties/Pénalités :
12:38 QU Nadia Larocca (Roughing/Rudesse)
14:17 QU Megan Farrell (Tripping/Faire trébucher)
Second Period/Deuxième période

Goals/Buts :
01:50 CAN Sarah Potomak (Victoria Bach)
07:55 CAN Eve-Audrey Picard
05:57 CAN Hannah Miller (Samantha Fieseler)

Penalties/Pénalités :
05:30 QU Mary Coughlin (Hooking/Accrocher)
08:21 QU Morgan McHaffie (Slashing/Coup de bâton)
09:22 QU Kyla Crouse (Body-checking/Mise en échec corporelle)
09:55 CAN Lauren Wildfang (Hooking/Accrocher)
14:06 CAN Eve-Audrey Picard (Hooking/Accrocher)
Third Period/Troisième période

Goals/Buts :
13:04 CAN Hannah Miller (Breanne Wilson-Bennett)

Penalties/Pénalités :
00:45 CAN Samantha Cogan (Boarding/Donner de la bande)
03:23 CAN Jessica Healey (Roughing/Rudesse)
08:06 QU Michele Knecht (Hooking/Accrocher)
Goaltenders/Gardiennes de but
CAN
Kassidy Sauvé; Shea Tiley (in 2nd/10:00)
QU
Caitlyn Cahonen; Mel Dodd-Moher
| Shots on Goal/Tirs au but | 1 | 2 | 3 | Total |
| --- | --- | --- | --- | --- |
| CAN | 22 | 19 | 14 | 55 |
| QU | 6 | 4 | 4 | 14 |