It's the end of an era at the World Under-17 Hockey Challenge. The 2014 tournament, underway this week in Cape Breton, N.S., will be the final time Canada is represented by five regional teams – Atlantic, Ontario, Pacific, Quebec and West.
Beginning next season, three national teams, comprised of the 66 best under-17 players from across the country, will wear the Maple Leaf at the tournament.
With that in mind, HockeyCanada.ca asked Al Coates, a former general manager of the Calgary Flames and Canada's National Men's Team, and a two-time Stanley Cup winner (with Calgary in 1989 and Anaheim in 2007) to select his All-Time Starting Six for each of the five Canadian regions, based on their impact on hockey and contribution to the game.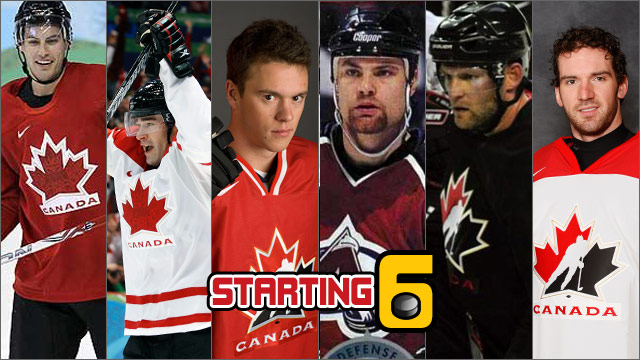 WEST
GOLD – 1 (2005)
SILVER – 0
BRONZE – 1 (2008)
FORWARDS
Ryan Getzlaf
U17 year and finish: 2002 – seventh place
NHL Entry Draft: Anaheim Ducks, 2003 (1st round, 19th overall)
NHL statistics: 594 GP; 171-394—565
Individual accomplishments: WHL East First All-Star Team (2003-04); WHL East Second All-Star Team (2004-05); NHL All-Star Game (2008, 2009); Anaheim Ducks captain (2010-13)
Team accomplishments: Stanley Cup (Anaheim Ducks – 2007)
Team Canada experience: IIHF World Under-18 Championship – 2003 (gold); IIHF World Junior Championship – 2004 (silver), 2005 (gold); IIHF World Championship – 2008 (silver); Olympic Winter Games – 2010 (gold)
Patrick Marleau
U17 year and finish: 1995 – fourth place
NHL Entry Draft: San Jose Sharks, 1997 (1st round, 2nd overall)
NHL statistics: 1,204 GP; 421-476—897
Individual accomplishments: WHL West First All-Star Team (1996-97); NHL All-Star Game (2004, 2007, 2009); San Jose Sharks captain (2003-09)
Team accomplishments: none
Team Canada experience: Pacific Cup (summer U18) – 1996 (gold); IIHF World Championship – 2003 (gold), 2005 (silver); World Cup of Hockey – 2004 (first place); Olympic Winter Games – 2010 (gold)
Jonathan Toews
U17 year and finish: 2005 – gold medal
NHL Entry Draft: Chicago Blackhawks, 2006 (1st round, 3rd overall)
NHL statistics: 450 GP; 182-230—412
Individual accomplishments: NCAA West First Team All-American (2006-07); NHL All-Rookie Team (2007-08); Conn Smythe Trophy (2010); Frank J. Selke Trophy (2012-13); NHL Second All-Star Team (2012-13); NHL All-Star Game (2009, 2011); Chicago Blackhawks captain (2008-13)
Team accomplishments: Stanley Cup (Chicago Blackhawks – 2010, 2013)
Team Canada experience: Junior World Cup (summer U18) – 2005 (gold, captain); IIHF World Junior Championship – 2006 (gold), 2007 (gold, Media All-Star Team); IIHF World Championship – 2007 (gold), 2008 (silver); Olympic Winter Games – 2010 (gold. Top Forward, Media All-Star Team)
HONOURABLE MENTION: Brenden Morrow (1995); Brayden Schenn (2008); Mike Sillinger (1988); Sheldon Kennedy (1986); Jaden Schwartz (2009); Jordin Tootoo (2000)
DEFENCEMEN
Curtis Leschyshyn
U17 year: 1986
NHL Entry Draft: Quebec Nordiques, 1988 (1st round, 3rd overall)
NHL statistics: 1,033 GP; 47-165—212
Individual accomplishments: WHL East First All-Star Team (1988)
Team accomplishments: Stanley Cup (Colorado Avalanche – 1996)
Team Canada experience: IIHF World Championship – 1990 (fourth place)
Robyn Regehr
U17 year and finish: 1997 – fourth place
NHL Entry Draft: Colorado Avalanche, 1998 (1st round, 19th overall)
NHL statistics: 983 GP; 30-148—178
Individual accomplishments: WHL West First All-Star Team (1998-99); CHL Third All-Star Team (1998-99)
Team accomplishments: none
Team Canada experience: Three Nations Cup (summer U18) – 1997 (gold); IIHF World Junior Championship – 1999 (silver); IIHF World Championship – 2000 (fourth place), 2005 (silver); World Cup of Hockey – 2004 (first place); Olympic Winter Games – 2006 (seventh place)
HONOURABLE MENTION: Braydon Coburn (2001, 2002); Jared Cowen (2008); Ryan Murray (2010); Ian White (2001)
GOALTENDER
Josh Harding
U17 year and finish: 2001 – fourth place
NHL Entry Draft: Minnesota Wild, 2002 (2nd round, 38th overall)
NHL statistics: 150 GP; 60-58-11; 2.46 GAA; .918 SV%; 10 SO
Individual accomplishments: WHL East Second All-Star Team (2001-02); WHL East First All-Star Team (2002-03); WHL Goaltender of the Year (2002-03); WHL Player of the Year (2002-03); CHL Second All-Star Team (2002-03); Bill Masterton Memorial Trophy (2012-13)
Team accomplishments: none
Team Canada experience: IIHF World Under-18 Championship – 2002 (sixth place); IIHF World Junior Championship – 2004 (silver); IIHF World Championship – 2009 (silver)
HONOURABLE MENTION: Rejean Beauchemin (2002)