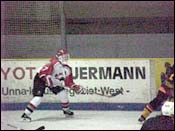 Jen Botterill rejoins her under-22 counterparts
This year's Under 22 National Women's Team is a 22 member, one time team, picked by scouts from the Canadian Hockey Association and coached this year by Julie Healy from Concordia University. These players will represent Canada in a series against the United States from Aug. 24-29, 1999 in Lake Placid, New York. To date, Canada's Under 22 women's team has won the single tournament it has played in.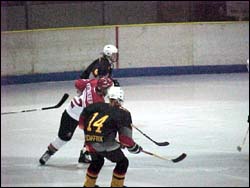 Perennial senior team member Hayley Wickenheiser also joined the Under-22 Team in Germany.
This event took place from from August 24-29, 1999 in Lake Placid, NY, home to the 1980 Winter Olympic games and the US Men's Olympic Hockey Team's miracle on ice against Russia.
Canada won the series over the US Under-22 Team in dramatic fashion 2 games to 1. After falling behind with a one goal defeat, Canada battled back to take the next two. Every game in the series was close and hard fought ensuring some great battles in years to come. Game summaries are available below.
Series vs. US Under-22 Results

Date

Results

Location

Aug 25
CAN 1 USA 2
Lake Placid, NY
Aug 26
CAN 2 USA 0
Lake Placid, NY
Aug 27
Day Off
-
Aug 28
CAN 2 USA 1
Lake Placid, NY

Canada's National Women's Under 22 Team's roster is was set and the schedule confirmed for the 4 Nations Tournament in Füssen, Germany Februrary 10-13, 2000.
Canada won the 2000 Four Nations Tournament going undefeated for the event and concluding with an exhibition victory against the host German team.
The group included Canada and Finland's under-22 teams, along with Germany and Switzerland's senior teams.
Four Nations Tournament Results

Date

Result

Location

Thursday, February 10, 2000
CAN 14 FIN 1
Füssen, GER
Friday, February 11, 2000
CAN 8 SUI 1
Füssen, GER
Saturday, February 12, 2000
CAN 3 GER 0
Geretsried, GER

Exhibition game

Sunday, February 13, 2000
CAN 10 GER 3
Füssen, GER