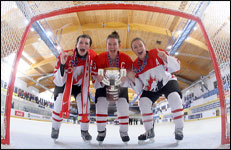 CANADA 3 – UNITED STATES 0
GOLD MEDAL | SAT. JAN. 7
Alexis Crossley scored the game-winner, Sarah Lefort added another in the first, Cydney Roesler topped it off in the third and Emerance Maschmeyer earned the shutout in Canada's golden win over the U.S. at the 2012 IIHF U18 World Women's Championship.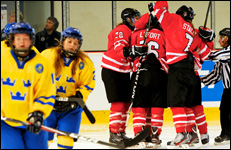 CANADA 7 – SWEDEN 0
SEMIFINAL | FRI. JAN. 6
Canada's National Women's Under-18 Team will be going for gold at this year's world championship after shutting out Sweden 7-0 in Friday's semifinal, a game that saw both Kristyn Capizzano and Erika Sowchuck score their first international goals.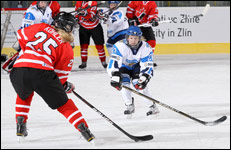 CANADA 7 – FINLAND 0
PRELIMINARY | TUES. JAN. 3
Netminder Emerance Maschmeyer earned her first international shutout, Sarah Lefort scored her first international goal, and assistant captain Meghan Dufault scored a goal and snagged four three helpers Tuesday night at the U18 world championship.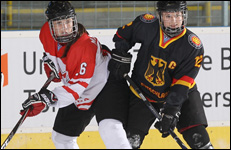 GERMANY 0 – CANADA 6
PRELIMINARY | SUN. JAN. 1
Elaine Chuli earned her first shutout wearing the red and white, while Cydney Roesler claimed Canada's player of the game honours and six different players scored, in Canada's 6-0 win over Germany at the 2012 IIHF Ice Hockey U18 Women's Worlds.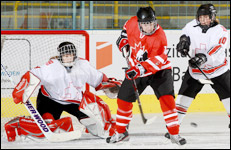 CANADA 13 – SWITZERLAND 1
PRELIMINARY | SAT. DEC. 31
Canada kicked off this year's world championship on a high note Saturday, with Alexis Crossley, Catherine Dubois and Taylor Woods all scoring their first international goals, and Dubois snagging her first hat trick, in a 13-1 romping of Switzerland.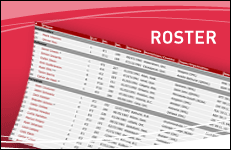 CANADIAN TEAM NAMED FOR
2012 U18 WOMEN'S WORLDS
The Canadian contingent that will go for gold at the 2012 IIHF Ice Hockey U18 Women's World Championship this December and January in the Czech Republic includes 18 players who beat the United States in a three-game series in August. » more | roster