Bubble Blog: Sarah Fillier
The forward talks about returning to Nova Scotia for the BFL National Women's Team Training Camp, presented by Sobeys, the importance of hotel-room snacks and seeing personal progress in spite of the pandemic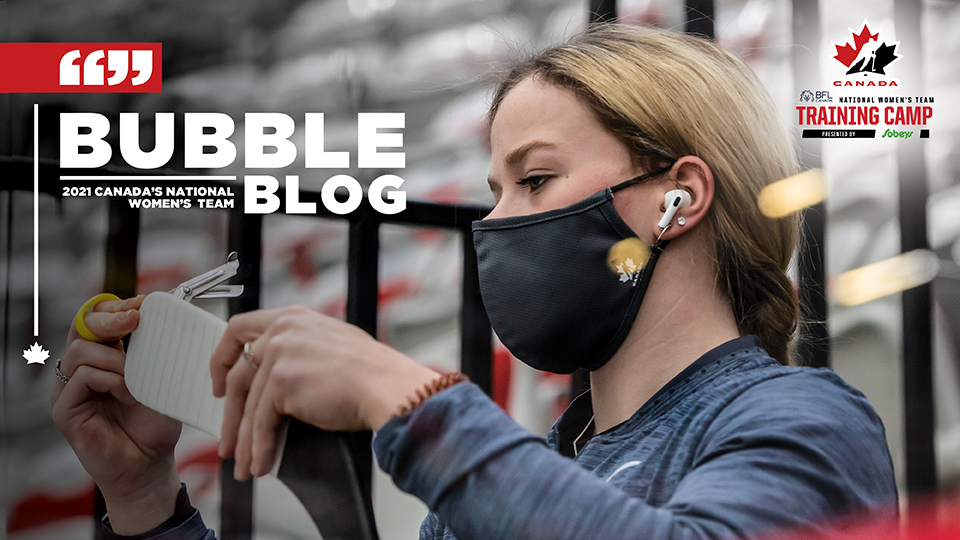 Saturday, March 6
Hello from the National Women's Team bubble in Halifax!
It has been a year-and-a-half since we were last in Nova Scotia with the national team. We gathered here for our Fall Festival in September 2019, eagerly looking ahead to playing in the 2020 IIHF Women's World Championship on home soil. Now, 18 months later, we all find ourselves back here again, readily awaiting the opportunity to compete in Halifax at the 2021 world championship.
Having already been through a bubble camp about a month ago in Calgary, there were some things that were to be expected – virtual meetings and workouts, delivered meals, COVID-19 testing and many other safety protocols that have become the new normal. However, being here and being able to practice at the world championship venue is new and exciting!
After being here for a few days, I've been able to settle into my bubble camp lifestyle. With the experience of our last camp, I came in a little more prepared in the snack department this time around! We also spend a lot of our time in our hotel rooms, so between our delivered meals, I often find myself on Facetime with teammates, friends and family throughout the day, catching up on some good reality TV, or taking a little bit of time to enjoy my view of Halifax Harbour.
My favourite parts of the day, however, are spent outside my room and with the team, and I am sure all of the girls would agree! The process to get the rink begins with our individual floors meeting for the shuttle to the rink (shout out 9th floor!). Unless there is a virtual meeting beforehand, this is the first time we see each other each day and the energy is always electric. The shuttle conversations are non-stop and range anywhere from talking about a new show we're all watching, to the unreal dessert that came with last night's dinner, or even to the cannon that startles us every day without fail. Once we arrive at the rink, we warm up and hit the ice!
Today we had our first compete skate. But before we stepped on the ice, we got some exciting news; when camp began, COVID-19 restrictions did not permit intrasquad games. Today those restrictions were lifted and we can now play! With excitement already running high before our skate, the restrictions update and the release of the dates for women's worlds, we were all buzzing to start practice.
When we are together as a group, the work, dedication and commitment that everyone has been putting in away from these camps is readily apparent. Although this has been far from a normal year, it is exciting to see the huge strides of growth and progress that have been made, regardless of our circumstances. It is obvious there has been a clear emphasis on adapting and making the absolute best out of any situation.
I am so grateful we were able to return to the East Coast. Camp has been nothing short of amazing so far and it is flying by fast. I cannot wait to play some games these last couple days and cherish each and every moment. After all, playing games is what we love to do! Game on, Team White!
All the best and stay safe!
Sarah