Bubble Blog: Kori Cheverie
The assistant coach talks about adjusting to virtual aspects of the BFL National Women's Team Training Camp, presented by Sobeys, her excitement about returning to the rink and not wanting to go back to the hotel, and gearing up for full team practices.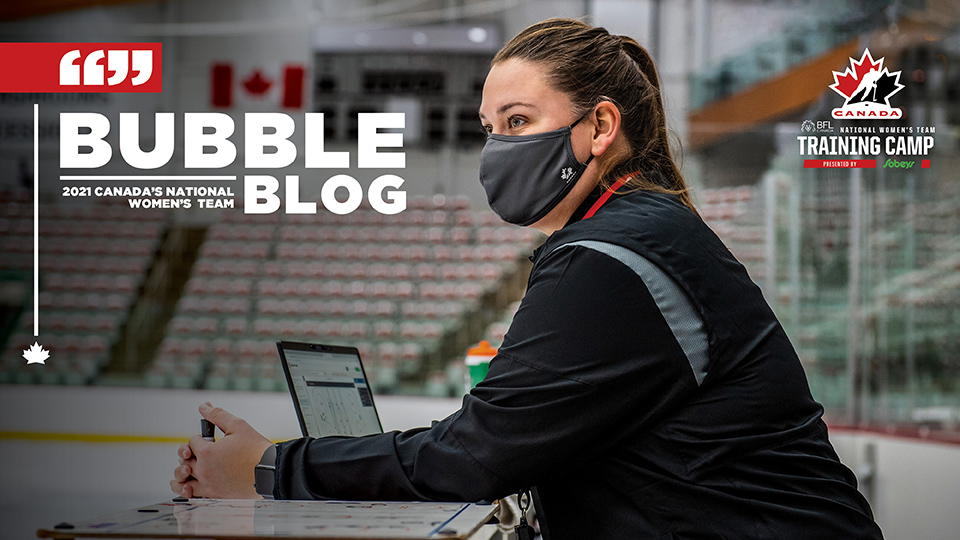 January 22, 2021
Hello from the bubble!
Well since I have already quarantined for 35 days in the past year (I have family on the East Coast), I figured why not spend another two weeks inside of a bubble where I can actually do hockey things!
The experience so far has been quite different than we're used to, but awesome all at the same time! Normally before the athletes arrive, the staff spends some time getting to know each other, planning and collaborating in-person, but we couldn't do that at this camp because of COVID protocols. However, Hockey Canada has done a great job building an online plan for the staff and coaches to get to know each other and to create the same type of environment as past camps.
The first five days of camp were completely virtual, but it was a great opportunity to prepare and get adjusted to what an online schedule entailed. The first day we could go to the rink and be around the athletes felt like Christmas morning! The protocols only allowed for small group training, but it was a really cool way for our team to work on skills and habits before full team practices. It was also a good opportunity for the coaches and staff to start forming relationships and having meaningful small group discussions.
My first day at the rink, I spent nine hours there and it felt like five minutes! It has been so long since I've been able to spend time in an arena that I decided I wanted to be there for the entire day, and I even joked that I wasn't going back to the hotel at the end of the night. I had a few small group sessions throughout the day and it was great to see the athletes in their happy place while having fun and working hard.
A new experience for me was having to coach practice from the bench. I wasn't allowed to be out there with the athletes due to restrictions on the numbers of people allowed on the ice. It was definitely a new challenge for my communication skills, but the players were great at setting up and running the drills themselves.
I think one of the coolest things about being in the bubble is that when we get to the rink and see each other, everyone is really excited because of all the time we're spending alone. Although we don't get to spend too much time together in-person right now, we've got a really great group of athletes and staff!
I am feeling very grateful to be heading into full team practices now and continuing to build on the foundation we have set. The athletes are very eager to get into the full swing of things, and they have really bought in and are excited to be here.
Bye for now!
Kori