All-Access Blog: Jill Saulnier
The National Women's Team forward talks about life in quarantine – from her morning coffee to finding ways to fill the down time, and looking ahead to women's worlds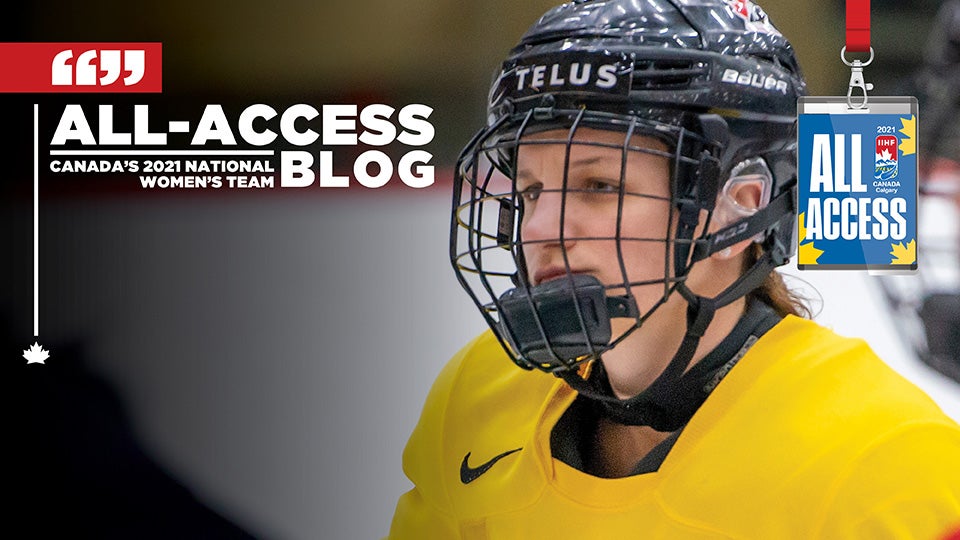 Thursday, August 12
Hello from (you guessed it) another bubble!
I'll rewind a little bit to get things started. On July 23, we all arrived in Calgary with our bags packed for a few weeks of training and prepping for the women's worlds. After getting settled in the rink and a few practices under our belts, we played a couple of games against Canada's National Women's Development Team to get us ready. Hats off to the dev roster, they brought their 'A' game and could not have been a better opponent to get us ready for what we have ahead.
After our pre-camp, we packed up our bags at the Sheraton Four Points and headed downtown to our new home at the Hyatt for the world championship. This includes a five-day quarantine for every country before we open the flood gates and the puck finally drops on the IIHF Women's World Championship that we've been waiting on for far too long. When I got into my hotel room, it felt a little like Christmas. There was an exercise bike, weights, workout gear, clothes, you name it. Hockey Canada and Sport Chek filled our rooms with goodies, which made our adjustment more exciting than anything else. I spent the first day of quarantine getting unpacked and getting my little hotel oasis set up. I got my TV all set up so I can watch some shows, my recovery gear organized, and I took some time to set up my little coffee nook (I am obsessed with my morning coffee).
The next two days were filled with team meetings, mental performance meetings, workouts and lots of down time. I must say, the staff have done a good job keeping us occupied throughout our time so far with our doors shut. The Arkells even made a surprise appearance for a private Zoom concert. We are pretty spoiled! :)
As the hours pass throughout the day, I can't help but catch myself feeling extra excited for what's ahead. After our worlds were cancelled twice, the time has finally come. It has been a year of unpredictability, adjustments and sometimes just believing good things were coming, even when that seemed far fetched. But here we are. Despite the hard and uncertain times, the work has been put in by what I truly believe is the most powerful, dedicated,and passionate group of players and staff I have been fortunate to be around. I cannot wait to show the world what we have in store.
Okay enough hockey talk, I'm missing my show!
Yours in hockey,
Jill