All-Access Blog: Claire Thompson
The National Women's Team defenceman talks about playing in her first world championship, her game-day routine and taking inspiration from Tokyo 2020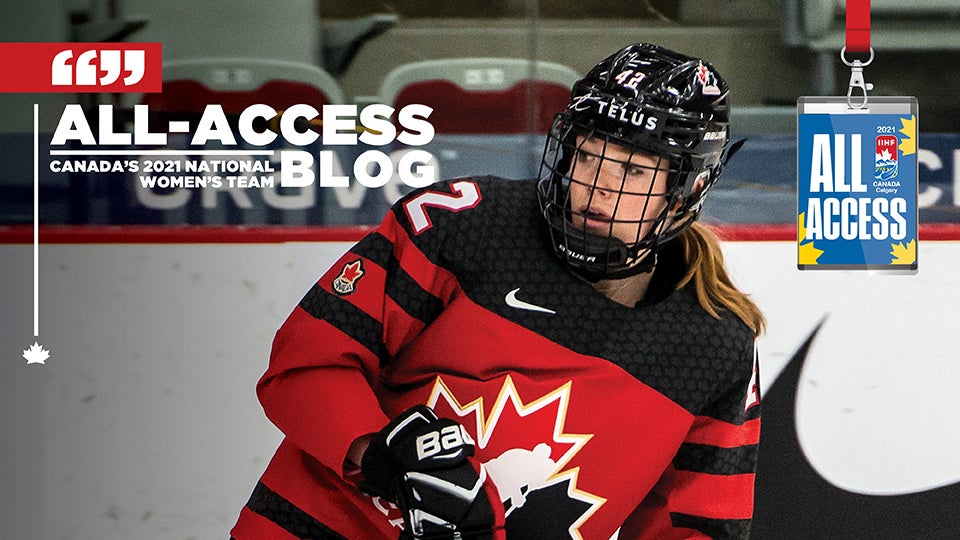 Monday, August 23
Hi, everyone!
I hope you've been enjoying the start of the women's worlds just as much as I have! To recap, we've played three games so far – an exhibition game against Finland, and preliminary-round games against Finland and Russia. The games have been fast, exciting and fun! We've pulled out three wins and I really could not have asked for a better way to start my first-ever world championship!
The days have been absolutely flying by in the bubble. For the first few days out of quarantine, every day we arrived at the rink feeling like it was Christmas morning – we'd walk into the room and hear screams of excitement about the new apparel sitting in our stalls. Some days we'd even get a few new pieces when we arrived at the rink, and then come off the ice to more. We are seriously so spoiled, and I'm starting to worry about how I'm going to fit it all in my already overpacked suitcase.
Usually, game days start off with breakfast, a few meetings and a light activation session. After lunch, I like to take a short nap and then it's time to pick out a game-day outfit. Everyone on the team loves to put together their cutest 'fits – personally, I think Nursey and Spoons have been KILLING it (no surprise there). I love to see everyone's personal styles expressed through their outfits. If you want some inspiration, check out Hockey Canada's social media channels for reference. Once we arrive at the rink, we get changed and warm up, and then it's game time!
A highlight of my experience so far was definitely our Zoom call with Olympic soccer gold medallist Allysha Chapman! Our team had been closely following the women's soccer team throughout the Olympics, and we all woke up early to watch it win the gold medal against Sweden. So to hear from someone on the team who had just accomplished what we have all spent the past three-and-a-bit years training for was inspiring. I think everyone walked away from the meeting with a little fire in their belly and even more excited to play … if that was even possible after 860 days without a women's worlds!
Well, I have to wrap this up because I need to get ready for practice. Thank you for your continued support!
Love always,
Claire