VETERANS SET PACE IN CANADA'S 7-2 WIN OVER CALGARY NORTHSTARS
CALGARY, Alta. – Olympic gold medallists Jayna Hefford (Kingston, Ont/Brampton, CWHL), Rebecca Johnston (Sudbury, Ont./Toronto, CWHL) and Hayley Wickenheiser (Shaunavon, Sask./University of Calgary, CIS) all collected three points on the ice Thursday night, helping Canada's National Women's Team sail to a 7-2 win over the Midget AAA Northstars – and proving they can still keep up with their less experienced counterparts.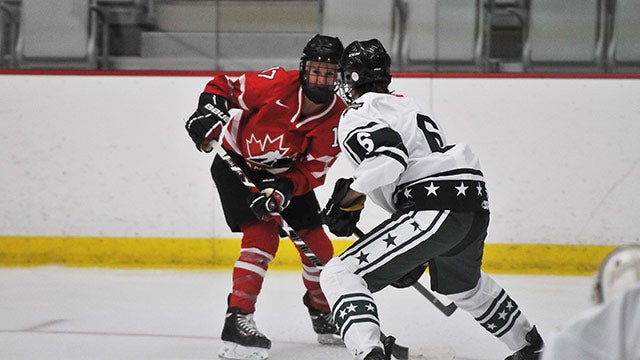 That being said it was rookie forward Melodie Daoust (Valleyfield, Que./McGill University, CIS) to get the ball rolling inside the Markin MacPhail Centre at Canada Olympic Park, opening the scoring midway through the first and adding another less than five minutes later to make it 2-0 early in the game. Wickenheiser assisted both of Daoust's markers, while Hefford added another goal for Canada at 16:53 in the period on an assist from Johnston to make it 3-0 going into intermission.
Fellow long-time National Women's Team vet Gillian Apps (Unionville, Ont./ Brampton, CWHL) fed Wickenheiser out front midway through the second to make it 4-0, and the Calgary Northstars continued to struggle in solving goaltender Genevieve Lacasse (Kingston, Ont./Boston, CWHL). That is until 17:26 in the middle frame when Derrick Reid let a fast shot go from the slot that went soaring past Lacasse to narrow the gap to 4-1, although still in favour of the ladies in red and white.
Caroline Ouellette (Montreal, Que./Montreal, CWHL) answered with a Canadian goal less than 15 seconds later to make it 5-1. Johnston provided the helper for Ouellette, and then after the centre ice face-off managed to get a hold of the puck and put one up on the board herself at 17:39 in the second to make it an impressive 6-1 going into the break.
Hefford scored Canada's lucky No. 7 midway through the third period, and while Brandon Sady was able to notch an unassisted marker for the Northstars with four minutes left in the third, there just wasn't enough time left on the clock for the Calgary boys' team to stage a comeback. Canada's National Women's Team skated away with its second win in as many days, starting an undefeated streak in its 2013-14 series against Alberta Midget Hockey League teams.
Follow all the National Women's Team action this season at www.hockeycanada.ca/nwt, www.facebook.com/hockeycanada and www.twitter.com/hc_women.
Game Information/Renseignements sur le match
Game #/No. de match
3
Round/Ronde
Midget Series
Arena/Aréna
Markin MacPhail Centre – Rink A
Location/Lieu
Calgary, Alta.

Date
Thursday, September 26, 2013

Time/Heure
19:15 MT

| Box Score/Compte | 1 | 2 | 3 | Total |
| --- | --- | --- | --- | --- |
| CAN | 3 | 3 | 1 | 7 |
| CGYN | 0 | 1 | 1 | 2 |
Goals & Penalties/Buts et pénalités
First Period/Première période
Goals/Buts :
10:28 CAN Melodie Daoust (Gillian Apps, Hayley Wickenheiser)
15:18 CAN Melodie Daoust (Catherine Ward, Hayley Wickenheiser) PP/AN
16:53 CAN Jayna Hefford (Vicki Bendus, Rebecca Johnston)

Penalties/Pénalités :
15:06 CGYN Justin Peers (Body-checking/Mise en échec corporelle)
17:27 CAN Catherine Ward (Holding/Retenir)
Second Period/Deuxième période
Goals/Buts :
10:09 CAN Hayley Wickenheiser (Gillian Apps)
17:26 CGYN Derrick Reid (Austin Strand)
17:39 CAN Caroline Ouellette (Rebecca Johnston,Catherine Ward)
18:03 CAN Rebecca Johnston (Caroline Ouellette, Jayna Hefford)

Penalties/Pénalités :
12:54 CAN Hayley Wickenheiser (Hooking/Accrocher)
14:35 CGYN Brandon Sady (Slashing/Coup de baton)
19:17 CGYN Yuri Chernichko (Tripping/Faire trébucher)
Third Period/Troisième période
Goals/Buts :
10:17 CAN Jayna Hefford (Lauriane Rougeau) PP/AN
16:02 CGYN Brandon Sady

Penalties/Pénalités :
08:36 CGYN Tanner Reynolds (Hooking/Accrocher)
16:28 CAN Bailey Bram (High-sticking/Bâton élevé)
Goaltenders/Gardien(ne)s de but
CAN
Genevieve Lacasse
CGYN
Derek Mazil; Nick Patterson (10:09 in 2nd)
| Shots on Goal/Tirs au but | 1 | 2 | 3 | Total |
| --- | --- | --- | --- | --- |
| CAN | 13 | 9 | 7 | 29 |
| CGYN | 8 | 7 | 4 | 19 |