Calgary Flames 5 - South East Athletic Club Tigers 6 (Overtime)
JAEGER WHITE SCORES UNASSISTED IN OT; SEAC SNAGS FIRST ICEBREAKER WIN
CALGARY, Alta. – The South East Athletic Club Tigers finally out their claws Saturday inside the Markin MacPhail Centre, taking their game against the Calgary Flames to overtime in order to snag their first win of this weekend's Icebreaker Tournament.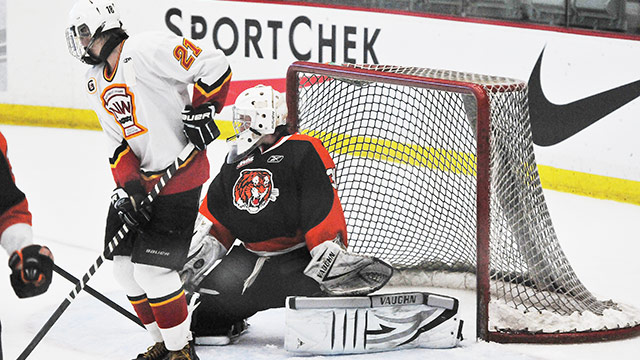 Jaeger White scored the unassisted game-winner at 4:27 in overtime, sparking a relieved celebration from his teammates both on the ice and on the bench, and giving the SEAC Tigers from Medicine Hat a 1-2 record at this tournament, which is being hosted by Canada's National Women's Team and features three teams from the Alberta Midget Hockey League. The Calgary Flames also have one win and two losses in the tourney.

While the extra frame was an exciting one, there was plenty of action from start to finish, with the Calgary Flames and SEAC Tigers trading penalties throughout, and special teams playing a role in several goals. Michael Doneff kicked off the scoring on a Tiger power-play at 13:06 in the first, and continued to play a key offensive role through all three periods, scoring a shorthanded marker in them middle frame and tying it up at 5-5 late in the third to snag a hat trick and send the game into overtime. Carson Pickett was also a major contributor to the score sheet, assisting four of six Tiger goals.

On the Calgary Flames side, Patrick Lyster scored his team's first goal on a power play at 15:05 in the first and added another on the man advantage before the first 20 minutes ran down on the clock. Dondre Watson and Zach Finlay also had a couple of points apiece for the Flames. But despite determined effort from the Calgary Midget AAA team, and plenty of fast-paced action to keep fans in the stands entertained, the OT heroics went to White and the SEAC Tigers.

But the Flames will have their chance for vengeance Sunday, as they face off against the Tigers again at 12:45 p.m. MT in their final game of the Icebreaker Tournament, which is a pre-season event being held to help prepare Canada's National Women's Team for the 2013-14 season, including the 2014 Olympic Winter Games in Sochi, Russia.
Game Information/Renseignements sur le match
Game #/No. de match
5
Round/Ronde
Icebreaker
Arena/Aréna
Markin MacPhail Centre – Rink A
Location/Lieu
Calgary, Alta.

Date
Saturday, September 21, 2013

Time/Heure
12:00 MT

| Box Score/Compte | 1 | 2 | 3 | OT | Total |
| --- | --- | --- | --- | --- | --- |
| CGYF | 2 | 2 | 1 | 0 | 5 |
| SEAC | 1 | 3 | 1 | 1 | 6 |
Goals & Penalties/Buts et pénalités
First Period/Première période
Goals/Buts :
13:06 SEAC Michael Doneff (Carson Pickett, Josh Dorn) PP/AN
15:05 CGYF Patrick Lyster (Cole Davis) PP/AN
18:36 CGYF Patrick Lyster (Brett Hamer, Zach Finlay) PP/AN

Penalties/Pénalités :
04:23 CGYF Curtis Ceccanese (Hooking/Accrocher)
12:30 CGYF Alex Cheveldave (Interference/Obstruction)
14:32 SEAC Josh Dorn (Head Contact/Contact avec la tête)
15:05 SEAC Houston Roszell (Cross-checking/

Double-

é

chec)
16:41 SEAC Cole Bohnet (Head Contact/Contact avec la tête)
Second Period/Deuxième période
Goals/Buts :
04:16 SEAC Matt Vandersloot (Michael Clarke, Matt Clement)
09:11 CGYF Evan Tschumi (Zach Finlay, Dondre Watson)
13:58 SEAC Michael Doneff (Carson Pickett) SH/DN
16:01 SEAC Quintin Karg (Nic Purkusic, Carson Pickett) PP/AN
18:08 CGYF Dondre Watson (Erik Kardash, Kyle Lissel)

Penalties/Pénalités :
00:00 CGYF Erik Kardash

(Head Contact/Contact avec la tête)


06:14 CGYF Bryson Traptow (Hooking/Accrocher)
07:58 SEAC Quintin Karg (Head Contact/Contact avec la tête)
07:58 SEAC Quintin Karg

(Head Contact/Contact avec la tête)


07:58 CGYF Erik Kardash (Head Contact/Contact avec la tête)


07:58 CGYF Erik Kardash (Head Contact/Contact avec la tête)


13:14 SEAC Michael Clarke (Slashing/Coup de bâton)
14:31 CGYF Carter Czaikowski

(Slashing/Coup de bâton)


18:40 SEAC Jordan McNulty (Hooking/Accrocher)
Third Period/Troisième période
Goals/Buts :
01:27 CGYF Bryson Traptow (Kyle Lissel) PP/AN
17:46 SEAC Michael Doneff (Nic Purkusic, Carson Pickett)

Penalties/Pénalités :
00:00 SEAC Austin Wong

(Head Contact/Contact avec la tête)


02:27 CGYF Patrick Lyster

(Slashing/Coup de bâton)


14:58 CGYF Erik Kardash (Head Contact/Contact avec la tête)
14:58 CGYF Erik Kardash

(Head Contact/Contact avec la tête)


16:54 CGYF Patrick Lyster (Slashing/

Coup de båiton

)
18:03 SEAC Ryan Fauth (Interference/Obstruction)
Overtime/Prolongation
Goals/Buts :
04:27 SEAC Jaeger White

Penalties/Pénalités :
01:39 CGYF Patrick Lyster

(Slashing/Coup de bâton)


03:04 CGYF Cole Davis (Boarding/Donner de la bande)
03:49 SEAC Ryan Grant (Hooking/Accrocher)
Goaltenders/Gardiens de but
CGYF
Austin Hannaford; Riley Morris (09:59 in 2nd)
SEAC
Xavier Burghardt; Kyler Komistek (08:45 in the 2nd)
| Shots on Goal/Tirs au but | 1 | 2 | 3 | OT | Total |
| --- | --- | --- | --- | --- | --- |
| CGYF | 11 | 6 | 17 | 0 | 34 |
| SEAC | 4 | 12 | 4 | 4 | 24 |