Canada 7 - Strathmore Bisons 4
LATE GAME COMEBACK GIVES CANADA 7-4 WIN OVER STRATHMORE BISONS
CALGARY, Alta. – Oh, what a game. Oh, Canada.

Although the AMHL's Strathmore Bisons (2-1) started off strong, with two goals in the first period for a 2-0 lead going into the second, Canada's National Women's Team (2-1) stepped back onto the ice after 20 minutes of play with an extra spring in their skates, scoring two in the middle frame and five in the third period alone to stage an exciting comeback and win their second straight game at the Icebreaker Tournament.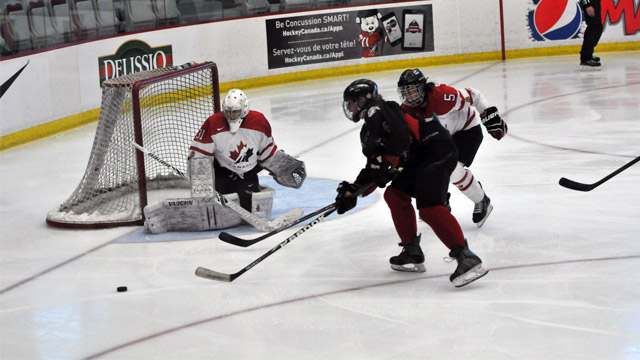 Rebecca Johnston (Sudbury, Ont./Toronto, CWHL) set the example for her fellow Canadian ladies, scoring her first of two goals at 4:29 in the second. Natalie Spooner (Scarborough, Ont./Toronto, CWHL) followed suit about 40 seconds later to make it 2-2 at 5:11 in the middle frame.

The Bisons kept pace, with Tristan Thompson scoring an unassisted marker at 6:08 and Mackenzie Bauer scoring shorthanded at 14:47 in the period to make it 4-2 going into intermission and set the stage for what would quickly become an exciting third period.

But despite some solid play from Strathmore, the Canadians owned the final frame, scoring five goals in less than six minutes to show what the red and white are really all about.

Rebecca Johnston again got it started, scoring her second of the game at 8:51 in the period, with help from Jenelle Kohanchuk (Winnipeg, Man./Boston University, HE). The two forwards paired up again with Johnston assisting Kohanchuk at 11:25 to tie it up at four-apiece. Hayley Wickenheiser (Shaunavon, Sask./University of Calgary, CIS), Meaghan Mikkelson (St. Albert, Alta./Alberta, CWHL) and Bailey Bram (Ste. Anne, Man./Brampton, CWHL) all added goals of their own to the scoreboard within two minutes of each other. Johnston and Kohanchuk both had four points total, while Mikkelson had three of her own. Eleven Canadian players total contributed points to the 7-4 final tally.

The Bisons will have their chance at a comeback Sunday, when they face off against Canada's National Women's Team for a rematch at 4 p.m. MT in the final game of the Icebreaker Tournament. The pre-season event is being hosted by Team Canada and features three teams from the Alberta Midget Hockey League, and is part of this season's preparation for the 2014 Olympic Winter Games. Follow www.twitter.com/hc_women for live updates from the rink.
Game Information/Renseignements sur le match
Game #/No. de match
6
Round/Ronde
Icebreaker
Arena/Aréna
Markin MacPhail Centre – Rink A
Location/Lieu
Calgary, Alta.

Date
Saturday, September 21, 2013

Time/Heure
15:00 MT

| Box Score/Compte | 1 | 2 | 3 | Total |
| --- | --- | --- | --- | --- |
| CAN | 0 | 2 | 5 | 7 |
| STR | 2 | 2 | 0 | 4 |
Goals & Penalties/Buts et pénalités
First Period/Première période
Goals/Buts :
03:32 STR William Conley (Mackenzie Bauer)
17:12 STR Shane Fraser (Mackenzie Bauer, Sebastien Kilcommons)

Penalties/Pénalités :
05:02 CAN Meaghan Mikkelson (Hooking/Accrocher)
05:47 STR Robbie McLean (Tripping/Faire trébucher)
10:01 STR Zachary Giroux (Tripping/Faire trébucher)
12:10 CAN Marie-Philip Poulin (Body-checking/Mise en échec corporelle)
Second Period/Deuxième période
Goals/Buts :
04:29 CAN Rebecca Johnston (Meaghan Mikkelson, Jenelle Kohanchuk)
05:11 CAN Natalie Spooner (Mélodie Daoust, Hayley Wickenheiser)
06:08 STR Tristan Thompson
14:47 STR Mackenzie Bauer SH/DN

Penalties/Pénalités :
07:55 CAN Bailey Bram (Tripping/Faire trébucher)
12:19 CAN Rebecca Johnston (Tripping/Faire trébucher)
13:47 STR William Conley (Hooking/Accrocher)
Third Period/Troisième période
Goals/Buts :
08:51 CAN Rebecca Johnston (Jenelle Kohanchuk, Haley Irwin)
11:25 CAN Jenelle Kohanchuk (Caroline Ouellette, Rebecca Johnston)
12:40 CAN Hayley Wickenheiser (Mélodie Daoust, Lauriane Rougeau)
13:39 CAN Meaghan Mikkelson (Rebecca Johnston, Jenelle Kohanchuk)
14:36 CAN Bailey Bram (Meaghan Mikkelson, Tessa Bonhomme)

Penalties/Pénalités :
02:14 STR Robbie McLean (Head Contact/Contact avec la tête)
06:09 STR Philip Anderson (Interference/Obstruction)
08:58 CAN Tessa Bonhomme (Hooking/Accrocher)
15:53 STR Philip Anderson (Holding/Retenir)
Goaltenders/Gardiennes de but
CAN
Charline Labonté; Geneviève Lacasse (in 2nd/13:52)
STR
Garrett Mason; Austin Beauchamp (in 2nd/07:41)
| Shots on Goal/Tirs au but | 1 | 2 | 3 | Total |
| --- | --- | --- | --- | --- |
| CAN | 11 | 11 | 17 | 39 |
| STR | 4 | 7 | 5 | 16 |