CANADIAN WOMEN'S HOCKEY TEAM DUMPS RUSSIA 9-1 IN EXHIBITION GAME AT SOCHI



SOCHI, Russia – Veteran forward Hayley Wickenheiser had a goal and two assists to lead Canada to a 9-1 rout of Russia in a women's hockey exhibition game Tuesday at Shayba Arena.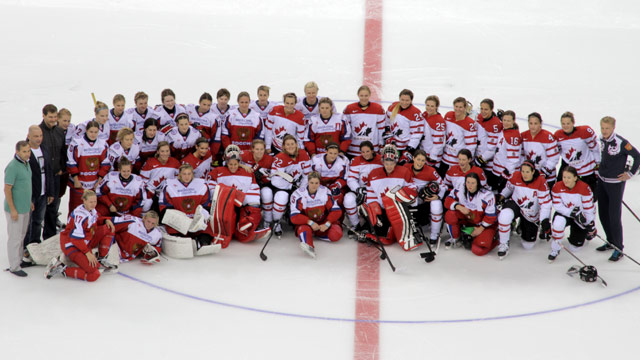 Wickenheiser opened the scoring just 34 seconds into the game. Jennifer Wakefield scored twice and Lauriane Rougeau, Meghan Agosta-Marciano, Marie-Philip Poulin, Gillian Apps, Vicki Bendus and Jenelle Kohanchuk added singles.
Canada defeated the host side 6-1 in the opener of the two-game series on Sunday. The series gave the Canadian team an opportunity to get accustomed to the Olympic venue and surrounding area.
"The main goal here was familiarization with the rink, the venues, the Olympic Park and just the city in general," said Canadian head coach Dan Church.

Yekaterina Smolentseva had the lone goal for Russia.
The Sochi Games will begin Feb. 7. Canada won gold at the 2010 Vancouver Games.
Game Information/Renseignements sur le match
Game #/No. de match
2
Round/Ronde
Exhibition
Arena/Aréna
Shayba Arena

Location/Lieu
Sochi, RUS

Date
Tuesday, September 10, 2013

Time/Heure
09:00 MT

| Box Score/Compte | 1 | 2 | 3 | Total |
| --- | --- | --- | --- | --- |
| CAN | 2 | 2 | 5 | 9 |
| RUS | 0 | 1 | 0 | 1 |
Goals & Penalties/Buts et pénalités
First Period/Première période
Goals/Buts :
00:34 CAN Hayley Wickenheiser (Catherine Ward)
16:34 CAN Lauriane Rougeau (Rebecca Johnston) PP/AN

Penalties/Pénalités :
07:01 CAN Brigette Lacquette (Slashing/Coup de bâton)
10:53 CAN Bench/Banc (Too Many Players/Trop de joueuses)
13:58 CAN Tara Watchorn (Tripping/Faire trébucher)
14:39 RUS Alexandra Kapustina (High-sticking/Bâton élevé)
Second Period/Deuxième période
Goals/Buts :
08:02 RUS Yekaterina Smolentseva (Iya Gavrilova, Olga Permyakova)
09:16 CAN Jennifer Wakefield (Natalie Spooner, Rebecca Johnston)
17:46 CAN Meghan Agosta-Marciano (Hayley Wickenheiser, Laura Fortino) SH/DN

Penalties/Pénalités :
04:14 RUS Anna Shokhina (Slashing/Coup de bâton)
10:31 CAN Gillian Apps (Elbowing/Donner du coude)
12:06 RUS Svetlana Tkachyova (Slashing/Coup de bâton)
13:16 RUS Anna Shibanova (Tripping/Faire trébucher)
16:34 CAN Gillian Apps (Boarding/Donner de la bande)
18:58 RUS Galina Skiba (Roughing/Rudesse)
18:58 CAN Caroline Ouellette (Roughing/Rudesse)
Third Period/Troisième période
Goals/Buts :
00:39 CAN Jennifer Wakefield
04:33 CAN Marie-Philip Poulin (Tessa Bonhomme) PP/AN
06:35 CAN Gillian Apps (Bailey Bram, Vicki Bendus)
11:48 CAN Vicki Bendus (Marie-Philip Poulin)
12:47 CAN Jenelle Kohanchuk (Hayley Wickenheiser)

Penalties/Pénalités :
04:18 RUS Valeria Pavlova (Hooking/Accrocher)
09:39 RUS Alexandra Kapustina (Tripping/Faire trébucher)
09:39 CAN Vicki Bendus (Slashing/Coup de bâton)
14:34 CAN Bailey Bram (Tripping/Faire trébucher)
17:13 CAN Meghan Agosta-Marciano (Tripping/Faire trébucher)
17:25 CAN Tessa Bonhomme (Cross-checking/Double-échec)
Goaltenders/Gardiennes de but
CAN

Charline Labonté; Geneviève Lacasse (in 2nd/10:31)
RUS
Anna Prugova; Alexandrova Nadezhda (in 3rd/00:00)
| Shots on Goal/Tirs au but | 1 | 2 | 3 | Total |
| --- | --- | --- | --- | --- |
| CAN | - | - | - | - |
| RUS | - | - | - | - |