CANADA FALLS 3-2 TO KNIGHTS OF COLUMBUS PATS; SUPPORTIVE CROWD IN EDMONTON
by Kristen Lipscombe
EDMONTON, Alta. – Three games in five days on the road took its toll Wednesday night on Canada's National Women's Team, with the red and white falling 3-2 to the Edmonton Knights of Columbus Pats in Midget Series action.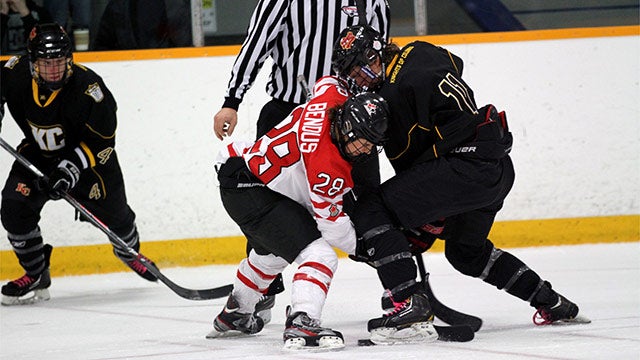 Despite a disappointing loss, however, the Bill Hunter Arena was full of fans cheering on both their local Alberta Midget Hockey League team and the Canadian ladies, which of course includes their local 2010 Olympic gold medal-winning goaltender Shannon Szabados (Edmonton, Alta./Northern Alberta Institute of Technology, ACAC), who took her position between the posts in front of her hometown crowd.
Hometown pride didn't stop the Pats from firing off 34 pucks at Szabados, including 19 in the third period alone, with two of three goals coming in that final frame. Team Canada also riddled the opposition with 53 shots over 60 minutes of play, including 26 in the second period alone, but despite that impressive offensive pressure, the canucks struggled to put the puck past the Edmonton goal line.
Canada did kick off the scoring, however, with forward Brianne Jenner (Oakville, Ont./Cornell University, ECAC) cracking the scoreboard at 18:56 in the first on an assist from Haley Irwin (Thunder Bay, Ont./Montreal, CWHL).
"Johnny (Rebecca Johnston) chipped it to Irwin (Haley Irwin) in the middle, and we had a two-on-one, and Irwin made a nice fake and then put it over to me," Jenner said after the game. "I just one-timed it in. It was a nice play to start the game."
But Edmonton retaliated less than a minute later with a goal from Cale Chalifoux to tie it up going into first intermission, and despite plenty of shots from both sides in the second, neither team could break the tie in the middle frame.
It wasn't until 7:42 in the third when forward Jenelle Kohanchuk (Winnipeg, Man./Boston University, HE) put Canada's second goal into the net for a short-lived 2-1 lead.
"She just fired it right away, and the goalie wasn't ready, and it went five-hole," Jenner said.
A mere 10 seconds later, Ryan Piche tied it back up, and late in the third Tanner Laderoute added another to give Edmonton the 3-2 win in the dying seconds of the game, taking away any chance of a Canadian comeback.
Canada's National Women's Team head coach Dan Church said "the KC Pats worked really hard tonight," in the midst of a "great atmosphere" inside Bill Hunter Arena.
"They battled in the gritty areas of the ice, and in the end that made the difference for them," Church said.
Team Canada needs to work on finishing "tough road trips" successfully, he added.
"You always have to be your best at the end of a tournament," Church said. "That's what we have to learn how to do, is to play our game when it matters the most."
Follow all the NWT action this season at www.twitter.com/hc_women, www.facebook.com/hockeycanada and on Hockey Canada's official website at www.hockeycanada.ca/nwt.
Game Information/Renseignements sur le match
Game #/Match no

9
Round/Ronde
Midget Series
Arena/Aréna
Bill Hunter Arena

Location/Lieu
Edmonton, Alta.

Date
Wednesday, October 30, 2013

Time/Heure
20:15
| Box Score/Compte | 1 | 2 | 3 | Total |
| --- | --- | --- | --- | --- |
| CAN | 1 | 0 | 1 | 2 |
| EDM KC | 1 | 0 | 2 | 3 |
Goals & Penalties/Buts et pénalités
First Period/Première période
Goals/Buts :
18:56 CAN Brianne Jenner (Haley Irwin)
19:40 EDM KC Cale Chalifoux (Nikolas Forest)

Penalties/Pénalités :
04:53 EDM KC Carson Breziinski (Hooking/Accrocher)
17:18 CAN Catherine Ward (Interference/Obstruction)
Second Period/Deuxième période
Goals/Buts :
None/Aucun

Penalties/Pénalités :
09:26 EDM KC Carter Shukalak (Body-checking/Mise en échec corporelle)
10:24 EDM KC Cale Chalifoux (Tripping/Faire trébucher)
Third Period/Troisième période
Goals/Buts :
07:42 CAN Jenelle Kohanchuk (Vicki Bendus)
07:52 EDM KC Ryan Piche
19:48 EDM KC Tanner Laderoute

Penalties/Pénalités :
01:57 CAN Mélodie Daoust (Holding/Retenir)
10:16 CAN Vicki Bendus (Holding/Retenir)
Goaltenders/Gardien(ne)s de but
CAN
Shannon Szabados
EDM KC

Brandon Kegler; Kiernan Matsuba (in 2nd/15:00)

| Shots on Goal/Tirs au but | 1 | 2 | 3 | Total |
| --- | --- | --- | --- | --- |
| CAN | 16 | 26 | 11 | 53 |
| EDM KC | 7 | 8 | 19 | 34 |