Canada 0 - Lethbridge Hurricanes 5
CANADA FALLS TO LETHBRIDGE 5-0 IN FIRST OF TWO ROAD GAMES; "TOMORROW ANOTHER OPPORTUNITY"
by Kristen Lipscombe

LETHBRIDGE, Alta. – Tuesday night's game against the Lethbridge Hurricanes was a tough one for the women in red and white, who fell to the AMHL team 5-0 in the opposition's home arena, the Nicholas Sheran Ice Centre.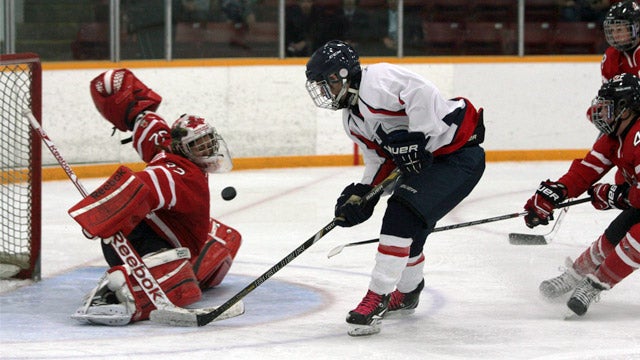 But there's not a lot of time for Canada's National Women's Team to dwell on disappointing loss this season. In fact, the top female players in the country are back on the ice again Wednesday night for their second road game in as many days against the SEAC Tigers at the Kinplex Arena in Medicine Hat.
"Tomorrow is another opportunity for us to get better," Team Canada head coach Dan Church said shortly after the final buzzer sounded in his team's game against Lethbridge. "We need to take advantage of that. We have 24 hours to get back on track."
Lethbridge's Brady Parenteau opened the scoring midway through the first, with Canada's National Women's Team unable to find the back of the net through the first frame. But the second period proved to be the biggest challenge for the canucks, who let in three goals in 20 minutes, with Kody McDonald making it 2-0 at 3:27 and Brendon Benson following suit with two of his own, including one while a Canadian player was sent to the box for hooking, making it 4-0 going into the third. McDonald scored his second of the game, and sealed Canada's defeat, at 3:56 in the final frame for the 5-0 score on the board.

Defenceman Catherine Ward (Montreal, Que./Montreal, CWHL) agreed with her coach that her team's game against Lethbridge will have to be taken as a learning experience.

"We have to keep working hard on the things we need to do, and not give up," Ward said after stepping off the ice. "We have to forget about it, and try to move on for tomorrow's game."

Church credited the Lethbridge Hurricanes for playing with "a solid work ethic" for a full 60 minutes. "I think that was the difference in the game," he said. "We have to take every game, one at a time."

"It's all part of us getting better, to (become) the team that we want to be at the end of the year," he said.

The puck drops Wednesday evening against SEAC at 7:45 p.m. MT. The last time these two teams faced off Canada beat the Tigers 5-1 during the Icebreaker Tournament, held at the Markin MacPhail Centre in Calgary last month to kick off the 2013-14 season.

Check out tomorrow's game story and stats at www.hockeycanada.ca/nwt, and follow all the Canada's National Women's Team action this season at www.twitter.com/hc_women.

Game Information/Renseignements sur le match
Game #/Match no

5
Round/Ronde
Midget Series
Arena/Aréna
Nicholas Sheran Ice Centre

Location/Lieu
Lethbridge, Alta.

Date
Tuesday, October 8, 2013

Time/Heure
18:45 MT
| Box Score/Compte | 1 | 2 | 3 | Total |
| --- | --- | --- | --- | --- |
| CAN | 0 | 0 | 0 | 0 |
| LET | 1 | 3 | 1 | 5 |
Goals & Penalties/Buts et pénalités
First Period/Première période
Goals/Buts :
13:36 LET Brady Parenteau (Laramie Kostalansky, Austyn Moser)

Penalties/Pénalités :
09:49 CAN Bailey Bram (Interference/Obstruction)
16:22 CAN Bailey Bram (Tripping/Faire trébucher)
Second Period/Deuxième période
Goals/Buts :
03:27 LET Kody McDonald
18:38 LET Brendon Benson (Devon Jerome)
19:59 LET Brendon Benson PP/AN

Penalties/Pénalités :
04:25 LET Austyn Moser (Delay of Game/Retarder le match)
09:06 LET Braden Ruff (Interference/Obstruction)
17:58 LET Kody McDonald (Hooking/Accrocher)
19:30 CAN Meaghan Mikkelson (Hooking/Accrocher)
Third Period/Troisième période
Goals/Buts :
03:56 LET Kody McDonald (Brendon Benson, Braden Ruff)

Penalties/Pénalités :
06:39 LET Parker Wakaruk (Delay of Game/Retarder le match)
14:52 LET Dillon Collett (Tripping/Faire trébucher)
18:07 LET Kody McDonald (High-sticking/Bâton élevé)
Goaltenders/Gardien(ne)s de but
CAN
Geneviève Lacasse; Charline Labonté (in 3rd/00:00)
LET
Robert Browin; Bobby Gathercole (in 2nd/12:00)
| Shots on Goal/Tirs au but | 1 | 2 | 3 | Total |
| --- | --- | --- | --- | --- |
| CAN | 8 | 14 | 6 | 28 |
| LET | 4 | 9 | 8 | 21 |