EDGE SCHOOL SKATES AWAY WITH 4-3 WIN IN SECOND GAME AGAINST TEAM CANADA
CALGARY, Alta. – It was another exciting 4-3 game Sunday afternoon between Canada's National Women's Team and the Edge School for Athletes. But this time the win went to the boys' prep team from the local sport school.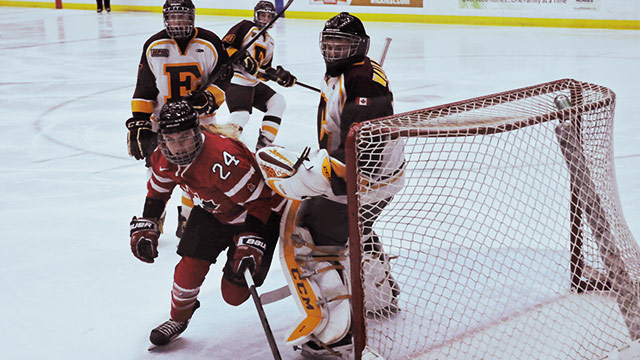 The Edge Mountaineers opened and closed the scoring on the Markin MacPhail Centre ice, with Austin Holmes slipping the puck past Canadian netminder Charline Labonté (Boisbriand, Que./Montreal, CWHL) at 8:46 in the first. His teammate Aidan Keane made it 2-0 at 17:34 in the period, but a two-goal lead is all the ladies in red and white would allow, as Mélodie Daoust (Valleyfield, Que./McGill University, CIS) replied 22 seconds later to narrow the gap to 2-1 going into first intermission.
The back-and-forth action continued up and down the ice into the middle frame, with Vicki Bendus (Wasaga Beach, Ont./Brampton, CWHL) tying it up at 12:48 in the second and Jennifer Wakefield (Pickering, Ont./Toronto, CWHL) adding another at 17:32 to make it 3-2 and give Canada its only lead of the game. But the Edge answered quickly, with Taro Hirose tying it up at 13:53 and Hayden Ursulak scoring the game-winner in the last 31 seconds in the period.
The Canadian ladies fought hard for a comeback throughout the third period, but despite two time-outs late in the game and a final face-off in the Edge School's end of the ice in the dying seconds of the game, the red and white were unable to put the puck past Mountaineer netminder Branson Schneider by the time the final buzzer sounded on the game. Schneider faced 30 shots while Labonte faced 22 shots total over three periods of play.
This was the second of two exhibition games between Canada's National Women's Team and the Edge School for Athlete's boys' prep team. The last time these two teams faced off, Canada edged the Mountaineers 4-3 last Thursday, Oct. 3, also at the Markin MacPhail Centre, home arena for Hockey Canada.
Canada's National Women's Team is on the road this coming week for two games against Midget AAA teams from the Alberta Midget Hockey League. The puck drops against Lethbridge at 6:45 p.m. MT on Tuesday, Oct. 8, while Canada's game against Medicine Hat is set for 7:45 p.m. MT on Wednesday, Oct. 9. Check out game stories, statistics and more at www.hockeycanada.ca/nwt.


Game Information/Renseignements sur le match
Game #/Match no

-
Round/Ronde
Exhibition
Arena/Aréna
Markin MacPhail Centre – Rink A
Location/Lieu
Calgary, Alta.

Date
Sunday, October 6, 2013

Time/Heure
16:45 MT
| Box Score/Compte | 1 | 2 | 3 | Total |
| --- | --- | --- | --- | --- |
| CAN | 1 | 2 | 0 | 3 |
| EDGE | 2 | 2 | 0 | 4 |
Goals & Penalties/Buts et pénalités
First Period/Première période
Goals/Buts :
08:46 EDGE Austin Holmes (Jeff Rose, Taro Hirose)
17:34 EDGE Aidan Keane (Tanner Rhodes, Jeff Rose)
17:56 CAN Mélodie Daoust (Rebecca Johnston, Tara Watchorn)

Penalties/Pénalités :
14:36 EDGE Tanner Rhodes (Head contact/Contact avec la tête)
Second Period/Deuxième période
Goals/Buts :
12:48 CAN Vicki Bendus (Gillian Apps)
13:53 EDGE Taro Hirose (Austin Ehret)
17:32 CAN Jennifer Wakefield (Rebecca Johnston, Laura Fortino)
19:29 EDGE Hayden Ursulak (Jake Standford)

Penalties/Pénalités :
01:09 CAN Brigette Lacquette (Hooking/Accrocher)
01:21 EDGE Konner Haas (Hooking/Accrocher)
03:24 EDGE Kurtis Woodhouse (Body-checking/Mise en échec corporelle)
07:18 CAN Brigette Lacquette (Body-checking/Mise en échec corporelle)
Third Period/Troisième période
Goals/Buts :
None/Aucun

Penalties/Pénalités :
None/Aucune
Goaltenders/Gardiens de but
CAN
Charline Labonté
EDGE
Branson Schneider

| Shots on Goal/Tirs au but | 1 | 2 | 3 | Total |
| --- | --- | --- | --- | --- |
| CAN | 7 | 13 | 10 | 30 |
| EDGE | 10 | 8 | 4 | 22 |