Canada 2 - Calgary Flames 0
SZABADOS EARNS SHUTOUT IN CANADA'S 2-0 WIN OVER MIDGET AAA CALGARY FLAMES
CALGARY, Alta. – Whether she's playing in a gold medal Olympic game, or an exhibition match-up against Midget AAA boys, Shannon Szabados (Edmonton, Alta./Northern Alberta Institute of Technology, ACAC) stands her ground between the posts with concentrated confidence and steely strength.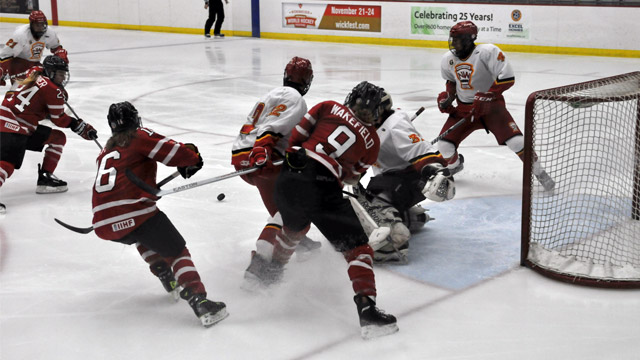 It's a style all Szaby's own, and on Wednesday night it earned her a shutout and helped lift Canada's National Women's Team to a 2-0 win over the Calgary Flames of the Alberta Midget Hockey League inside the Markin MacPhail Centre. The last time these two teams faced off, the Midget AAA Flames edged the Canadian ladies 3-2 on the first day of the Icebreaker Tournament to start the 2013-14 season.

Wednesday night's win was a well-deserved one for the women in red and white, who arrived back from a road game in the early morning hours after facing off Tuesday night against defending TELUS Cup champions the Red Deer Chiefs. Despite a quick turn-around after a tough game, however, Canada came back strong in its game against the Calgary Flames.

Power plays had an especially pivotal role in the victory, with defenceman Catherine Ward (Montreal, Que./Montreal, CWHL) putting the puck past the goal line just five minutes into the first while the Flames were in the box. Fellow blueliner Lauriane Rougeau (Beaconsfield, Que,./Cornell University, ECAC) was credited with the assist.

Forward Jennifer Wakefield (Pickering, Ont./Toronto, CWHL) was also able to capitalize on the one-player advantage, with Melodie Daoust (Valleyfield, Que./McGill University, CIS) feeding her midway through the second to make it 2-0 for Canada. Despite several more penalties on both sides going into the third, Szabados and her teammates were able to hold off the Midget AAA Calgary Flames through the final 20 minutes, snagging their third win in four games of Midget Series action.

The exhibition series is part of a busy season in preparation for the 2014 Olympic Winter Games in Sochi, Russia. Next up for Team Canada, however, is an exhibition game against the Edge School for Athletes, with the puck dropping at 7:15 p.m. MT on Thusday, again at the Markin MacPhail Centre, Hockey Canada's home arena at Canada Olympic Park. Follow all the action at www.hockeycanada.ca/nwt, www.facebook.com/hockeycanada and www.twitter.com/hc_women.
---
Game Information/Renseignements sur le match
Game #/Match no

4
Round/Ronde
Midget Series
Arena/Aréna
Markin MacPhail Centre – Rink A
Location/Lieu
Calgary, Alta.

Date
Wednesday, October 2, 2013

Time/Heure
19:30
| Box Score/Compte | 1 | 2 | 3 | Total |
| --- | --- | --- | --- | --- |
| CAN | 1 | 1 | 0 | 2 |
| CGYF | 0 | 0 | 0 | 0 |
Goals & Penalties/Buts et pénalités
First Period/Première période
Goals/Buts :
04:55 CAN Catherine Ward (Lauriane Rougeau) PP/AN

Penalties/Pénalités :
04:05 CGYF Jackson Riddell (Hooking/Accrocher)
11:33 CAN Jocelyne Larocque (Holding/Retenir)
15:20 CGYF Evan Tschumi (Cross-checking/Double-échec)
Second Period/Deuxième période
Goals/Buts :
13:35 CAN Jennifer Wakefield (Melodie Daoust) PP/AN

Penalties/Pénalités :
09:04 CAN Brigette Lacquette (Hooking/Accrocher)
11:54 CGYF Alex Cheveldave (Body-checking/Mise en échec corporelle)
13:35 CGYF Patrick Lyster (Holding/Retenir)
17:49 CAN Bailey Bram (Hooking/Accrocher)
Third Period/Troisième période
Goals/Buts :
None/Aucune

Penalties/Pénalités :
01:12 CAN Bailey Bram (Boarding/Donner de la bande)
01:51 CAN Hayley Wickenheiser (Hooking/Accrocher)
12:17 CGYF Curtis Ceccanese (Body-checking/Mise en échec corporelle)
15:54 CAN Melodie Daoust (Holding/Retenir)
16:21 CGY Bryson Traptow (Cross-checking/Double-échec)
17:10 CAN Hayley Wickenheiser (Roughing/Rudesse)
Goaltenders/Gardiens de but
CAN
Shannon Szabados
CGYF
Riley Morris

| Shots on Goal/Tirs au but | 1 | 2 | 3 | Total |
| --- | --- | --- | --- | --- |
| CAN | 13 | 6 | 9 | 28 |
| CGYF | 6 | 12 | 11 | 29 |