CANADA EDGED 2-1 BY TELUS CUP CHAMPS; WAKEFIELD SCORES LONE GOAL
RED DEER, Alta. – When Jennifer Wakefield (Pickering, Ont./Toronto, CWHL) took a beautiful shot from out front midway through the first, and watched while falling to the ice as the puck soared into the back of the net, it seemed as though everything was going Canada's way Tuesday night inside Red Deer Arena.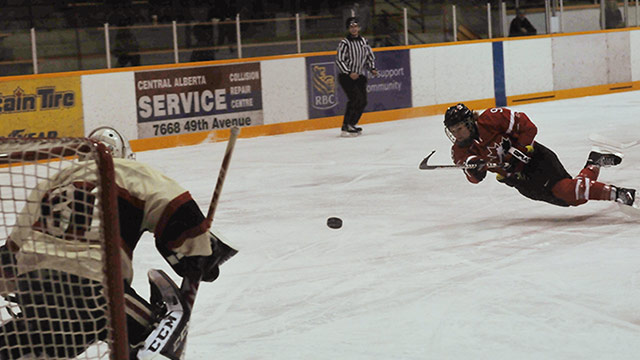 But while Canada was able to take the 1-0 lead early in its first official road game of this season's Midget Series, Wakefield's even strength marker would be the lone goal of the game for the ladies in red and white.
Despite scoring just once, Canada's National Women's Team played a hard fought and fast-paced game against the Red Deer Chiefs, who just happen to be two-time defending champions of the coveted TELUS Cup, Canada's National Midget Championship. Needless to say, fans from across the Red Deer area came to watch an exciting hockey game between two talented teams, and that's exactly what they got, with the red hot action on the ice making up for the chilly temperature in the rink.
It wasn't until late in the second that the Red Deer Chiefs were finally able to put one past Canadian netminder Charline Labonte (Boisbriand, Que./Montreal, CWHL), with Tyler Steenbergen tying it up at one goal-apiece with just over last two minutes left in the period. Red Deer maintained momentum going into the third, and Andrew Nielsen was able to capitalize on that with just over five minutes remaining in the period, giving the Chiefs a 2-1 lead with time running down on the clock.
Canada's coaching staff called a time-out with just over 30 seconds remaining in the final frame, but it wasn't long before the last buzzer sounded, and the Red Deer Chiefs were able to skate away with the win in front of a hometown crowd. Labonte faced 25 shots over three periods for a strong showing between the posts.
Next time, Canada's National Women's Team gets to play in its home arena, the Markin MacPhail Centre at Canada Olympic Park. The puck drops at 7:30 p.m. MT on Wednesday, Oct. 2 against the Midget AAA Calgary Flames.
It will be Canada's fourth game in its ongoing series against teams from the Alberta Midget Hockey League, part of a busy season in preparation for the 2014 Olympic Winter Games in Sochi, Russia. Follow all the action at www.hockeycanada.ca/nwt, www.facebook.com/hockeycanada and www.twitter.com/hc_women.
Game Information/Renseignements sur le match
Game #/No. de match
3
Round/Ronde
Midget Series
Arena/Aréna
Red Deer Arena

Location/Lieu
Red Deer, Alta.

Date
Tuesday, October 1, 2013

Time/Heure
19:30 MT

| Box Score/Compte | 1 | 2 | 3 | Total |
| --- | --- | --- | --- | --- |
| CAN | 1 | 0 | 0 | 1 |
| RD | 0 | 1 | 1 | 2 |
Goals & Penalties/Buts et pénalités
First Period/Première période
Goals/Buts :
09:58 CAN Jennifer Wakefield (Natalie Spooner)

Penalties/Pénalités :
05:04 RD Gabe Bast (Cross-checking/Double-échec)
16:40 CAN Brigette Lacquette (Holding/Retenir)
Second Period/Deuxième période
Goals/Buts :
17:57 RD Tyler Steenbergen

Penalties/Pénalités :
07:29 RD Tyler Steenbergen (Hooking/Accrocher)
11:46 RD Andrew Nielsen (Head Contact/Contact avec la tête)
Third Period/Troisième période
Goals/Buts :
14:29 RD Andrew Nielsen

Penalties/Pénalités :
00:59 RD Brad Makofka (Slashing/Coup de bâton)
06:07 RD Brad Makofka (Slashing/Coup de bâton)
10:19 CAN Laura Fortino (Interference/Obstruction)
Goaltenders/Gardien(ne)s de but
CAN
Charline Labonté
RD
Cole Sears
| Shots on Goal/Tirs au but | 1 | 2 | 3 | Total |
| --- | --- | --- | --- | --- |
| CAN | 10 | 7 | 7 | 24 |
| RD | 9 | 11 | 5 | 25 |