Canada shut out 2-0 by hard-working Calgary Royals
by Kristen Lipscombe
CALGARY, Alta. – Canada's National Women's Team suffered a tough shutout loss to the Calgary Royals, who skated away with a 2-0 win Saturday night in front of family and friends inside their home rink, Stu Peppard Arena in the city's southwest.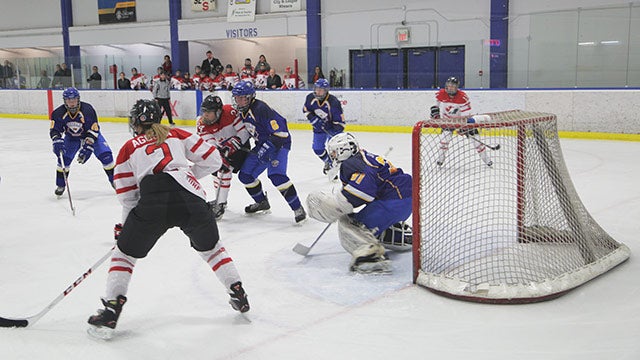 Canadian netminder Shannon Szabados (Edmonton, Alta./Northern Alberta Institute of Technology, ACAC) made 24 saves over three periods, but it wasn't enough to stop the Royals from capitalizing on a couple of Canadian penalties in the second to score goals at 9:33 and 18:29 in the period.
"We have to give credit to the Royals; they played a great game," forward Jayna Hefford (Kingston, Ont./Brampton, CWHL) said following the game. She pointed out that the "two special unit goals" cost Canada the game in what was a "disappointing" result by the time the final buzzer sounded.
"We had a couple of chances and couldn't score," Hefford said. "We worked hard, but that wasn't enough."
Canada's National Women's Team will have a chance to step it up in Midget Series action Monday, Dec. 2, when the ladies in red and white travel to the Strathmore Family Centre to face off against the Strathmore Bisons. The puck drops at 7:30 p.m. MT.
Canada's National Women's Team is playing a full 2013-14 schedule against Alberta Midget Hockey League teams as part of its preparation for the 2014 Olympic Winter Games in Sochi, Russia, next February. Follow all the action this season at twitter.com/hc_women, www.facebook.com/hockeycanada and on Hockey Canada's official website at www.hockeycanada.ca/nwt.
Game Information/Renseignements sur le match
Game #/Match no

16
Round/Ronde
Midget Series
Arena/Aréna
Stu Peppard Arena
Location/Lieu
Calgary, Alta.
Date
Saturday, November 30, 2013
Time/Heure
19:30 MT
| Box Score/Compte | 1 | 2 | 3 | Total |
| --- | --- | --- | --- | --- |
| CAN | 0 | 0 | 0 | 0 |
| CGYR | 0 | 2 | 0 | 2 |
Goals & Penalties/Buts et pénalités
First Period/Première période
Goals/Buts :
None/Aucun

Penalties/Pénalités :
01:01 CAN Courtney Birchard (Holding/Retenir)
15:07 CAN Brianne Jenner (Boarding/Donner de la bande)
19:30 CGYR Jordan Evans (Tripping/Faire trébucher)
Second Period/Deuxième période
Goals/Buts :
09:33 CGYR Logan Ferguson (Josh Giacomin, Sean Montgomery) PP/AN
18:29 CGYR Liam (Corey Dambrauskas, Josh McCulloch) PP/AN

Penalties/Pénalités :
05:39 CGYR Salvatore Scalise (Holding/Retenir)
12:34 CAN Gillian Apps (Tripping/Faire trébucher)
18:54 CGYR Jordan Evans (Body-checking/Mise en échec corporelle)
14:57 CAN Jennifer Wakefield (Holding/Retenir)
Third Period/Troisième période
Goals/Buts :
None/Aucun

Penalties/Pénalités :
01:59 CAN Meaghan Mikkelson (Cross-checking/Double-échec)
08:18 CAN Meaghan Mikkelson (Interference/Obstruction)
14:18 CGYR Greydon Robinson (Tripping/Faire trébucher)
18:33 CGYR Jordan Evans (Holding/Retenir)
Goaltenders/Gardien(ne)s de but
CAN
Shannon Szabados
CGYR
Ben Smith; Andrew Lohin (in 2nd/09:33)
| Shots on Goal/Tirs au but | 1 | 2 | 3 | Total |
| --- | --- | --- | --- | --- |
| CAN | 7 | 7 | 9 | 23 |
| CGYR | 9 | 10 | 7 | 26 |