Canada suffers tough overtime loss to Grande Prairie; Ready to "step it up" in next Midget Series game
by Kristen Lipscombe
GRANDE PRAIRIE, Alta. – Natalie Spooner (Scarborough, Ont./Toronto, CWHL) scored the third goal of the game on a power play, and assisted Meghan Agosta-Marciano (Ruthven, Ont./Montreal, CWHL) to tie the game up in the third, to lead a late game comeback that helped Canada force Wednesday night's game against the Midget AAA Grande Prairie Storm into overtime.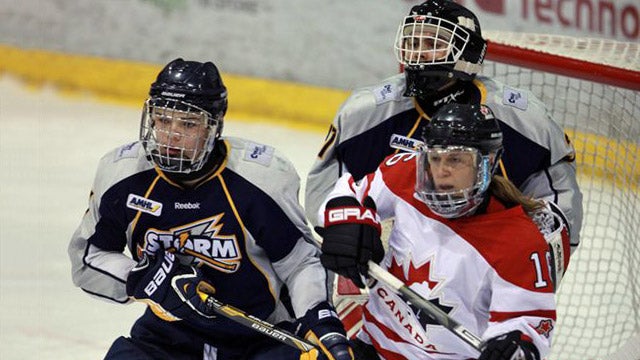 But it just wasn't enough for the women in red and white, who fell 5-4 to the Alberta Midget Hockey League team when Rylan Yaremko put one past the Canadian goal line just under five minutes into the extra frame to give Grande Prairie the win in front of a hometown crowd.
Canada's National Women's Team is fresh off winning the gold medal at the 2013 4 Nations Cup in Lake Placid, N.Y., where it played four games in five days, and hopped right back on the road for its first Midget Series game since October 30 in Edmonton.
"It wasn't the finish we wanted," Spooner said from the Canada Games Arena immediately after Wednesday evening's game. "But I think it showed good character, that we never really gave up."
Grande Prairie managed three straight goals against Team Canada, including a marker from Kevin Henley early in the first, followed by one from Josh Perrott, assisted by Henley, just 51 seconds into the middle frame, and another from Henley himself just over a minute later to make it 3-0 in the second period.
The three-goal deficit sparked a Canadian comeback that happened almost as quickly, with Lauriane Rougeau (Beaconsfield, Que./Cornell University, ECAC) putting the canucks up on the scoreboard at 13:33 in the period and Brianne Jenner (Oakville, Ont./Cornell University, ECAC) scoring on a power play at 17:00 to lower the gap to 3-2 going into intermission.
Derek Brown replied at 8:20 in the third to make it 4-2 for Grande Prairie on a power play, but the women's side would not be deterred, capitalizing on another power play on Spooner's goal at 11:29 in the period, with help from forward Caroline Ouellette (Montreal, Que./Montreal, CWHL) and defenceman Catherine Ward (Montreal, Que./Montreal, CWHL)
"I came onto the ice and Caro (Ouellette) was going into the zone, and she kind of tipped it to me, and I was able to drive wide and cut to the net, and just kind of shot it and it ended up (going) in," Spooner said.
A few minutes later, Spooner fed Agosta-Marciano to make it 4-4 at 14:31 in the third, just in time to earn the extra frame.
"Our line was doing really well just working it down low and we had a pretty good cycle going," Spooner said. "Gus (Agosta) was able to walk in off the wall there and get a shot."
Unfortunately, it was Yaremko who scored first in the sudden victory overtime period, giving Grand Prairie the 5-4 win in the end.
"In the third, I thought we started capitalizing more," Spooner said, adding Canada needs to step it up in its next Midget Series game. "I think we need to play with some urgency earlier on ... and in overtime we need to elevate our game a step above them, because it's not fun losing in overtime, especially when were able to come back and tie it up."
Canada's National Women's Team next faces off against the Edmonton South Side Athletic Club Athletics, with the puck dropping at 8:15 p.m. MT this Friday, Nov. 15 at the Bill Hunter Arena in Edmonton.
Follow all the NWT action this season at www.twitter.com/hc_women, www.facebook.com/hockeycanada and on Hockey Canada's official website at www.hockeycanada.ca/nwt.
Game Information/Renseignements sur le match
Game #/Match no

10
Round/Ronde
Midget Series
Arena/Aréna
Canada Games Arena
Location/Lieu
Grande Prairie, Alta.
Date
Wednesday, November 13, 2013

Time/Heure
19:30 MT
| Box Score/Compte | 1 | 2 | 3 | OT/P | Total |
| --- | --- | --- | --- | --- | --- |
| CAN | 0 | 2 | 2 | 0 | 4 |
| GP | 1 | 2 | 1 | 1 | 5 |
Goals & Penalties/Buts et pénalités
First Period/Première période
Goals/Buts :
07:40 GP Kevin Henley

Penalties/Pénalités :
03:52 GP Andrew Kartusch (Holding/Retenir)

Second Period/Deuxième période
Goals/Buts :
00:51 GP Josh Perrott (Kevin Henley)
02:03 GP Kevin Henley (Austin Hrehorak, Nolan Yaremko)
13:33 CAN Lauriane Rougeau (Caroline Ouellette, Hayley Wickenheiser)
17:00 CAN Brianne Jenner (Bailey Bram, Catherine Ward) PP/AN

Penalties/Pénalités :
02:44 GP Kelsey Bauman (Hooking/Accrocher)
09:27 GP Andrew Kartusch (Interference/Obstruction)
09:43 CAN Natalie Spooner (Hooking/Accrocher)
15:52 GP Nolan Yaremko (Hooking/Accrocher)
Third Period/Troisième période
Goals/Buts :
08:20 GP Derek Brown (Christian Kenny) PP/AN
11:29 CAN Natalie Spooner (Caroline Ouellette, Catherine Ward) PP/AN
14:31 CAN Meghan Agosta-Marciano (Natalie Spooner, Jennifer Wakefield)

Penalties/Pénalités :
08:04 CAN Tara Watchorn (Body-checking/Mise en échec corporelle)
10:32 GP Rylan Yaremko (Delay of Game/Retarder le match)
Overtime/Prolongation
Goals/Buts :
04:46 GP (Rylan Yaremko, Kevin Henley)

Penalties/Pénaltés :
01:04 CAN Laura Fortino (Interference/Obstruction)
Goaltenders/Gardien(ne)s de but
CAN
Genevieve Lacasse
GP
Tallon Kramer; Brandon Bilodeau (in 2nd/09:43)
| Shots on Goal/Tirs au but | 1 | 2 | 3 | OT/P | Total |
| --- | --- | --- | --- | --- | --- |
| CAN | 9 | 19 | 11 | 0 | 39 |
| GP | 16 | 7 | 12 | 5 | 40 |