Irwin and Ward add two assists apiece; Canada falls 4-2 to Medicine Hat in front of supportive crowd
by Kristen Lipscombe
MEDICINE HAT, Alta. – Montreal Stars teammates Haley Irwin (Thunder Bay, Ont.) and Catherine Ward (Montreal, Que.) worked together to set up both goals for Canada's National Women's Team on Thursday night, garnering two assists apiece, but in the end the red and white were defeated 4-2 by the Midget AAA Medicine Hat Tigers.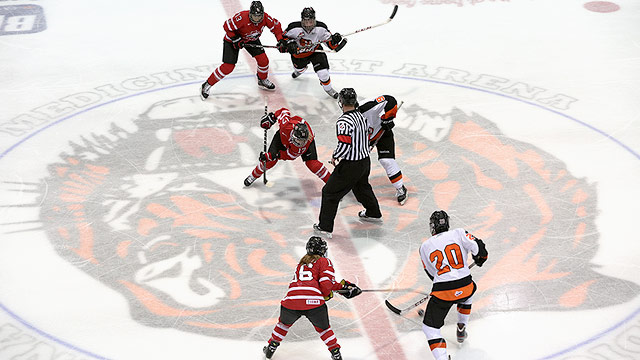 It was Team Canada's second game in as many nights, but despite a busy travel schedule and long days, but the ladies stepped onto the ice with energy and enthusiasm, as fans filtered through the doors of Medicine Hat Arena and filled the stands to cheer on both their hometown team and the Sochi 2014 Olympians, chants of "Let's Go, Canada!" and "Go, Canada, Go!" pushing players on both sides to put on an exciting game for fans.
Although the Tigers skated away with the win, Team Canada kicked off the scoring, with Natalie Spooner (Scarborough, Ont./Toronto, CWHL) deking out a Medicine Hat defender and finding the back of the net at 6:22 in the first, on assists from Irwin and Ward of course, to make it 1-0 early in the match-up. But Medicine Hat answered back a few minutes later, with Carter Hill tying it up at 9:30 in the period to make it 1-1 after 20 minutes.
The second period was all about Medicine Hat, with Matt van der Sloot adding one at 14:40 and Hill scoring is second of the night at 9:30 to make it 3-1 after 40 minutes, but Canada's National Women's Team came out strong in the third and brought the game to within one goal once again. A power play provided the Canadians with the opportunity to create some great offence, including a quick pass from Ward to Irwin, who fed it to Caroline Ouellette (Montreal, Que./Montreal, CWHL). Ouellette let off a one-timer high into the Medicine Hat net to narrow the gap to 3-2 at 11:29 in the final frame.
But Medicine Hat sealed Canada's defeat in the last minute of the third, when Shannon Szabados (Edmonton, Alta./Northern Alberta Institute of Technology, ACAC) was pulled from the net and Josh Dorn put the puck past the goal line to make it 4-2 with 44 seconds left on the clock. Despite the difficult loss, Canada's National Women's Team was welcomed warmly by the Medicine Hat community, with several young girls' teams in attendance and the rink adorned with colourful signs designed by local students, displaying "good luck" messages to Team Canada as they ready for the upcoming trip to Russia for the 2014 Olympic Winter Games.
"The City of Medicine Hat put a good show on here tonight," head coach Kevin Dineen said. "(It) was a very enthusiastic crowd and I think it was a no-lose situation for them, there was a lot of cheering going both ways. We appreciated the reception."
To stay-up-to-date on Canada's National Women's Team on its final stretch on the Road to Sochi, check out Hockey Canada's official website at www.hockeycanada.ca/nwt and follow Team Canada on social media at twitter.com/hc_women and www.facebook.com/hockeycanada.
Game Information/Renseignements sur le match
Game #/Match no

23
Round/Ronde
Midget Series
Arena/Aréna
Kinplex 1
Location/Lieu
Medicine Hat, Alta.
Date
Thursday, January 9, 2014
Time/Heure
TBD
| Box Score/Compte | 1 | 2 | 3 | Total |
| --- | --- | --- | --- | --- |
| CAN | 1 | 0 | 1 | 2 |
| MH | 1 | 2 | 1 | 4 |
Goals & Penalties/Buts et pénalités
First Period/Première période
Goals/Buts :
06:22 CAN Natalie Spooner (Catherine Ward, Haley Irwin)
09:30 MH Carter Hill (Jaeger White, Cody Verge)
Penalties/Pénalités :
17:29 MH Mitch Hallas (Tripping/Faire trébucher)
Second Period/Deuxième période
Goals/Buts :
14:40 MH Matt van der Sloot (Carter Hill)
15:15 MH Carter Hill (Jaeger White, Jordan McNulty)
Penalties/Pénalités :
03:29 CAN Meaghan Mikkelson (Interference/Obstruction)
Third Period/Troisième période
Goals/Buts :
11:29 CAN Caroline Ouellette (Haley Irwin, Catherine Ward) PP/AN
19:16 MH Josh Dorn EN/FD
Penalties/Pénalités :
00:31 MH Tash Bowles (Hooking/Accrocher)
10:24 MH Cody Verge (Hooking/Accrocher)
12:31 CAN Marie-Philip Poulin (Slashing/Coup de bâton)
Goaltenders/Gardiennes de but
CAN
Shannon Szabados
MH
Xavier Burghardt
| Shots on Goal/Tirs au but | 1 | 2 | 3 | Total |
| --- | --- | --- | --- | --- |
| CAN | 9 | 9 | 11 | 19 |
| MH | 7 | 10 | 6 | 23 |