United States downs Canada's National Women's Team 5-1 in warm-up for Sochi Olympics

CALGARY, Alta. – A preoccupied Canada's National Women's Team fell 5-1 to the United States on Thursday, as the red and white tried to come to grips with the sudden resignation of their head coach.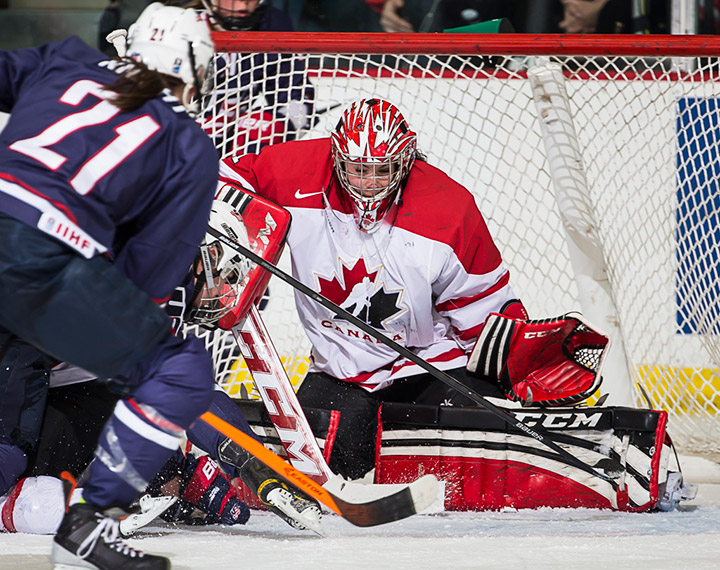 Canada wasn't in the game from the outset. Head coach Dan Church left Calgary in the morning without addressing the players. Assistant coaches Danielle Goyette and Lisa Haley are co-coaching the team until Church's replacement is named.
The loss snapped Canada's three-game winning streak against the Americans since losing to them in this year's final at the 2013 IIHF Ice Hockey Women's World Championship in April.
Canada mustered just 10 shots on U.S. goalie Jessie Vetter in the first two periods and 16 overall at the Markin MacPhail Centre, Hockey Canada's home arena in Calgary.
Alex Carpenter, Meghan Duggan, Brianna Decker and Hilary Knight, with Megan Bozek adding an empty-netter for the U.S.
Defenceman Tara Watchorn (Newcastle, Ont./Calgary, CWHL) scored the lone goal for the Canadians after they fell behind 3-0. Goaltender Shannon Szabados (Edmonton, Alta./Northern Alberta Institute of Technology, ACAC) stopped 24 of 28 shots.
"It was an emotional day," forward Caroline Ouellette (Montreal, Que./Montreal, CWHL) said. "A lot of different feelings around the team."
"I suspect that's always the case when a head coach steps down in the NHL. It's just never happened to us. I think we have some people who are feeling mixed emotions.
"That's not an excuse. We clearly were not the better team tonight. There are a lot of areas of our play that were exposed and that we weren't good at. Our passing wasn't sharp, our changes, and those are details we cannot have go that bad.
"Maybe we were cruising a little bit, having three successful games against them. They took what made us successful in the past games and shoved it at us. They were better on the forecheck and quicker on loose pucks," Ouellette said.
Goyette, who won gold medals in women's hockey with Canada at the 2002 and 2006 Olympic Winter Games, pointed out major distractions can happen and the team must learn to play through it.
"Any situation like that can happen at the Olympics," she said. "It could happen at the world championship. If something happens really major, we have to be able to turn the switch for two and a half hours and play the game and take care of business," she said.
Canada's all-time leading scorer Hayley Wickenheiser (Shaunavon, Sask./University of Calgary, CIS) suffered a lower-body injury on her second shift. The forward went down in the neutral zone, got up slowly and skated in pain to the bench.
She briefly returned to the ice late in the first period, but did not appear the rest of the game.
"The doctor had a quick look at her," Haley said. "She doesn't feel it's anything too serious. Obviously they're going to take another look at it tomorrow to see how it responds, but everybody is pretty optimistic; it's going to be a day-to-day thing."
Canada and the U.S. scheduled six exhibition games against each other prior to the Olympic Winter Games in Sochi.
Canada won the first two and also beat the Americans 4-2 in the preliminary round of the 2013 4 Nations Cup tournament in November. The two sides meet again Dec. 20 in Grand Forks, N.D., Dec. 28 in St. Paul, Minn., and Dec. 30 in Toronto.
The Americans were also upset 3-0 by Finland in at the 4 Nations Cup, so they were highly motivated to beat Canada on the opposition's home ice Thursday. The Americans have individual speed and skill, which makes them lethal on the power play. They scored twice with a man-advantage.
"We've just been working on getting better," U.S. head coach Katey Stone said. "We need to get better in our end. That has been the primary focus since November, honestly. Not throwing pucks around and chasing pucks. Trying to possess as many pucks as we can and working our way up the ice zone by zone.
"It sounds really dull, but it's paying dividends for us. We've got plenty of kids who are creative offensively, explosive offensively. We let them go, but we've got to take care of their own end," she said.
Canada's team game has been superior because the women play high-tempo games against male Midget AAA teams. But the host team's game was disjointed Thursday.
"We have to respect Dan Church's decision, but at the same time we have to go to work," Goyette said. "But, hey, we're human. Right now it's difficult for the team and difficult for everybody around the team.
"Tonight it was hard to focus, but we can't use that as an excuse. I don't think we played the game tonight. I think we were watching the game and it cost us."
Game Information/Renseignements sur le match
Game #/Match no

3
Round/Ronde
-
Arena/Aréna
Markin MacPhail Centre
Location/Lieu
Calgary, Alta.
Date
Thursday, December 12, 2013
Time/Heure
21:00 ET

| Box Score/Compte | 1 | 2 | 3 | Total |
| --- | --- | --- | --- | --- |
| CAN | 0 | 0 | 1 | 1 |
| USA | 1 | 1 | 3 | 5 |
Goals & Penalties/Buts et pénalités
First Period/Première période
Goals/Buts :
11:29 USA Alex Carpenter (Gigi Marvin, Kelli Stack) PP/AN

Penalties/Pénalités :
04:49 CAN Mélodie Daoust (Holding/Retenir)
10:01 CAN Tara Watchorn (Body-checking/Mise en échec corporelle)
10:15 CAN Jayna Hefford (Tripping/Faire trébucher)
15:30 USA Josephine Pucci (Holding/Retenir)
18:56 USA Hilary Knight (Tripping/Faire trébucher)

Second Period/Deuxième période
Goals/Buts :
02:42 USA Brianna Decker (Lyndsey Fry, Kendall Coyne)

Penalties/Pénalités :
03:01 CAN Vicki Bendus (Hooking/Accrocher)

Third Period/Troisième période
Goals/Buts :
04:30 USA Meghan Duggan (Josephine Pucci, Brianna Decker) PP/AN
09:37 CAN Tara Watchorn (Gillian Apps)
10:17 USA Hilary Knight (Kelli Stack)
19:58 USA Megan Bozek EN/FD SH/DN

Penalties/Pénalités :
01:05 USA Monique Lamoureux (Body-checking/Mise en échec corporelle)
02:19 CAN Caroline Ouellette (Hooking/Accrocher)
03:56 CAN Gillian Apps (High-sticking/Bâton élevé)
18:58 USA Gigi Marvin (Cross-checking/Double-échec)

Goaltenders/Gardiennes de but
CAN
Shannon Szabados (off 3rd/17:00)

USA
Jessie Vetter

| Shots on Goal/Tirs au but | 1 | 2 | 3 | Total |
| --- | --- | --- | --- | --- |
| CAN | 5 | 5 | 6 | 16 |
| USA | 9 | 12 | 8 | 29 |