Giroux sparks Canada's power play in 4-1 win over Belarus at world championship



STOCKHOLM, Sweden – Canada scored three power-play goals en route to a 4-1 win over Belarus and moved into first place in its group at the IIHF World Championship on Friday.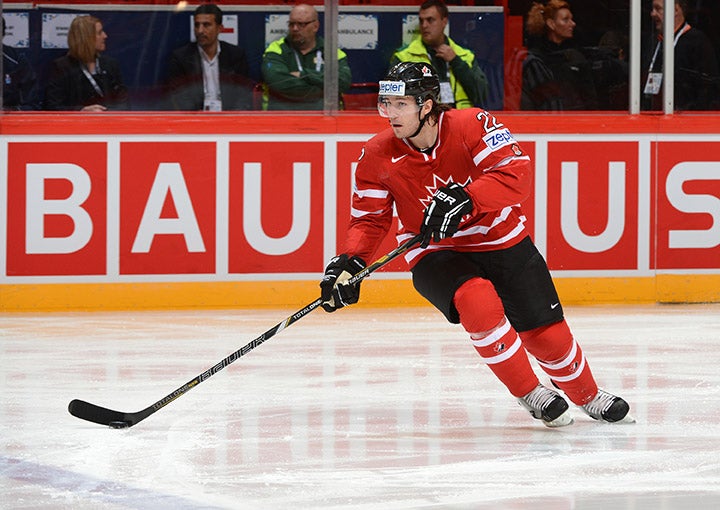 Claude Giroux was in on all of those power-play goals. The Philadelphia Flyers' forward scored and assisted on the others by linemates Andrew Ladd and Steven Stamkos. Ryan O'Reilly scored Canada's first goal even-strength.
Justin Schultz assisted on two goals. His Edmonton Oilers teammate and Canadian goaltender Devan Dubnyk made nine saves for his third win of the tournament.
Stamkos was tied for the scoring lead in the tournament with nine alongside Ilya Kovalchuk of Russia and Petri Kontiola of Finland on Friday.
Canada doubled its power-play output from three goals to six in the tournament in one night.
"It's going to make the difference in the big games," Giroux said. "I think our power play was moving well before. It just wasn't going in the net. Tonight was a great example of keeping it simple and getting the puck to the net."
The top four countries in each pool of eight advance to the quarter-finals.
Canada (4-0-1) vaulted over Switzerland into first in its pool with 13 points, although the unbeaten Swiss were just two points behind with a game in hand. Sweden (3-2) was third with nine points and the Czech Republic (2-2-1) fourth with eight.
Canada has Saturday off and concludes the preliminary round with back-to-back games Sunday and Monday against the Czechs and Slovenia, respectively.
Finland was the leader of the Helsinki pool following a 3-2 win over Russia, which lost its second in a row. The Finns had 11 points followed by Russia and the United States with nine.
Slovakia inched into fourth in that pool with one point from a 2-1 shootout loss to Austria. Thomas Vanek of the Buffalo Sabres scored the shootout winner as Austria claimed its second win of the tournament.
Canada added Vancouver Canucks defenceman Dan Hamhuis to the team Friday. The Smithers, B.C., native is expected to arrive Saturday and will bump the roster up to 23 players, including eight defencemen.
Countries can carry a maximum of 25 players in the tournament.
The Canucks were swept in the first round of the NHL playoffs by San Jose. Hamhuis represented Canada in four world championships. He won gold in 2007 and silver in 2008 and 2009.
"It's giving us a really good veteran player that has played against every top opponent in the league," Canadian head coach Lindy Ruff said.
Belarus is ranked No. 14 in the world behind Canada at No. 5 and is the host country of next year's IIHF World Championship in Minsk.
The Belarusians held their opposition to three goals or less per game prior to facing Canada, but their offence has been anaemic. They're the lowest-scoring team in the tournament with six goals in four games.
Alexei Yefimenko foiled Dubnyk's shutout bid at 15:58 of the third period. Goaltender Dmitri Milchakov made 33 saves.
Canada played its second game in as many days after beating host Sweden 3-0 the previous night.
The game against Belarus didn't have the atmosphere of the night before, but the Canadians played a strong first period and fed off the success of their special teams.
In addition to scoring three times with an extra attacker, Canada held Belarus scoreless on five chances.
"We wanted to have a good start, with high energy," O'Reilly said. "There's never an easy game in this tournament. Every team can play, every team can skate.
"We wanted to play our style of game, get the puck deep, work it and put the puck in the net. That's what we did."
Giroux scored a wrap-around goal at 2:35 of the third period. He took a feed from Stamkos and deked one way to get Belarus's defence going the wrong way before tucking the puck in the corner.
On a rush with Stamkos, Giroux dished the puck at the last minute so the Tampa Bay Lighting star had an easy tap in at 5:27 of the second period. Giroux teed Ladd up in the high slot for Canada's first power-play goal at 16:59 of the first.
"They made a couple of plays you can't draw up," Ruff said. "Just skill plays."
O'Reilly whipped Jeff Skinner's backhand pass from behind the goal-line past Milchakov at 11:17 of the first period.
Notes: Steve Yzerman, Canada's executive director of national teams and the Tampa Bay Lightning general manager, was at Friday's game … Canada is undefeated against Belarus in seven world championship meetings … Belarus defenceman Roman Graborenko played in the Quebec Major Junior Hockey League for Drummondville and Cape Breton.
Game Information
Game Number
36
Round
Preliminary
Arena
Globe Arena

City, Country
Stockholm, SWE

Date
Friday, May 10, 2013

Time
02:15 p.m. ET

Attendance
Game Status
final
| Box Score/Compte | 1 | 2 | 3 | Final |
| --- | --- | --- | --- | --- |
| CAN | 2 | 1 | 1 | 4 |
| BLR | 0 | 0 | 1 | 1 |
Goals & Penalties/ Buts et pénalités
First Period/Première période
Goals/Buts:
11:17 CAN Ryan O'Reilly (Jeff Skinner, Jordan Staal)
16:59 CAN Andrew Ladd (Claude Giroux, Justin Schultz) PP/AN

Penalties/Pénalités:
12:36 BLR Yaroslav Maslenikov (Tripping/Faire trébucher)
16:50 BLR Ilya Kaznadei (Hooking/Accrocher)
19:52 CAN Andrew Ladd (Interference/Obstruction)


Second Period/Deuxième période
Goals/Buts:
05:27 CAN Steven Stamkos (Claude Giroux, Justin Schultz) PP/AN

Penalties/Pénalités:
02:05 CAN Luke Schenn (Charging/Assaut)
04:55 BLR Yaroslav Maslenikov (Interference/Obstruction)
11:17 CAN Matt Read (Interference/Obstruction)
16:08 BLR Dmitri Milchakov (Tripping/Faire trébucher)


Third Period/Troisième période
Goals/Buts:
02:35 CAN Claude Giroux (Steven Stamkos, Andrew Ladd) PP/AN
15:58 BLR Alexei Yefimenko (Artyom Demkov)

Penalties/Pénalités:
02:07 BLR Oleg Goroshko (Roughing/Rudesse)
02:57 CAN Jordan Staal (Tripping/Faire trébucher)
11:04 BLR Oleg Goroshko (Delay of Game)
19:07 BLR Alexander Kitarov (High Sticking/Bâton élevé)


Goaltenders/Gardiens de but
CAN
Devan Dubnyk

BLR
Dmitri Milchakov

| Shots on Goal/Tirs au but | 1 | 2 | 3 | Total |
| --- | --- | --- | --- | --- |
| CAN | 20 | 6 | 11 | 37 |
| BLR | 2 | 3 | 5 | 10 |