(May 7) KARLSTAD, Sweden - If only there were more Canadians like Patrick, Sydor and Smyth - the Team Canada and Edmonton Oilers captain who played in his fourth world championship on an ankle that still needs to have a metal rod removed.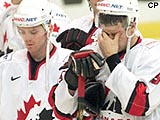 There were 25 devastated players in Team Canada's dressing room Tuesday night. There were over 60 players back home who probably didn't sleep too well, either, after failing to answer the call when general manager Lanny McDonald invited them.
2002 MWC Media Guide
Click Here for a PDF version
"I hope they do feel guilty," said Canadian goalie J.S. Giguere, outstanding in Tuesday's 3-2 quarter-final loss to Slovakia. "This tournament gives players an opportunity to get better, visit a new country. It should be important to represent your country."
Giguere said what all of his teammates were thinking, although not many would admit it. If there's any embarrassment in Canada failing to win in the quarter-finals for two straight years, it's not with the group of players who showed up this year and played their hearts out. It's with those could have made a difference but didn't bother.
There's no doubt many players had valuable reasons for saying No, most noticeably because of injuries that had to be taken of with surgery. But that doesn't mean the 25 guys who showed up didn't have their own injuries to fight through.
"I love the way the Edmonton Oilers approach this tournament," said Canadian Hockey Association president Bob Nicholson. "They want their players competing in April and May. We need more (NHL) organizations looking at this tournament that way.
The Dallas Stars produced four: Sydor, Richard Matvichuk, Brenden Morrow and Marty Turco.
There's no doubt the world championship will never rival the Stanley Cup playoffs in North America. But Canadians - fans, media and players alike - should at least realize the stakes of sending the sixth-best possible team to this tournament.
Failing to reach the semifinals cost the CHA 300,000 Swiss francs ($296,520 Cdn), money that would have gone back to minor hockey in Canada, the same minor hockey that developed the NHL stars who make millions today.
Slovakia, on the other hand, got every NHL player that was available. Stars such as Peter Bondra, Miroslav Satan, Ziggy Palffy and Jozef Stumpel showed up without hesitation.
Canada has depth, but when more than 60 players decline invitations, the depth gets tested.
Canada has gone without a medal for five years, its last a gold at the '97 world championship.
"As Canadians, we want to be fighting for a gold medal. It's an empty feeling."