Czech Republic 0 - Canada 6
Desrosiers powers Canada into U18 semifinals with shutout of Czech Republic

SOCHI, Russia - Connor McDavid scored a hat trick and Philippe Desrosiers earned the shutout as Canada blanked the Czech Republic 6-0 on Thursday in quarter-final play at the world under-18 hockey championship.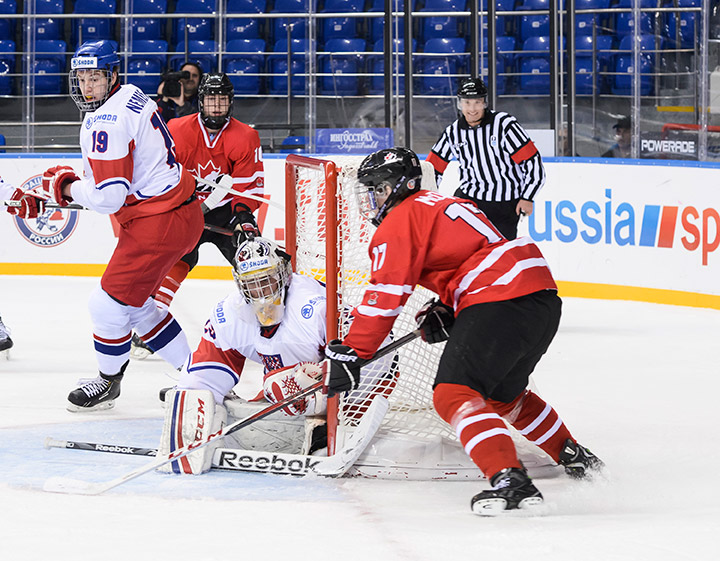 Sam Reinhart, Nick Baptiste and Laurent Dauphin also scored for the Canadians, who will play Finland on Friday. The United States will face host Russia in the other semifinal.
Desrosiers, who was coming off a 6-0 shutout win over Sweden on Tuesday, made 19 saves.
"He was outstanding," said Canadian assistant coach Jody Hull. "It was a really tight game. It was 1-0 at one point and we ended up giving them a breakaway while on the power play and he made a great stop. We just stayed with what we were doing and that gave us a little bit of momentum. You could tell on the bench that the guys were fired up after that save. We kind of fed off that.
"That's all you want your goalies to do – make the stops when they're there to make and Philippe's been doing that for us the last couple of games."
Canada led 3-0 after two periods.
McDavid scored back-to-back goals in the third to put the game out of reach. The 16-year-old Erie Otters forward leads the tournament with eight goals and six assists in five games.
Jindrich Pacl stopped 31 shots in net for the Czech Republic.
In the other quarter-final games, Finland beat Switzerland 7-4, the United States blanked Sweden 4-0 and Russia downed Germany 8-4.
Game Information
Game Number
25
Round
Quarter-final
Arena
Shayba Arena

City, Country
Sochi, RUS

Date
Thurs. April 25, 2013

Time
12:00 p.m. ET

| Box Score/Compte | 1 | 2 | 3 | Final |
| --- | --- | --- | --- | --- |
| CZE | 0 | 0 | 0 | 0 |
| CAN | 1 | 2 | 3 | 6 |
Goals & Penalties/ Buts et pénalités
First Period/Première période
Goals/Buts:
19:27 CAN Sam Reinhart (Sam Bennett, Madison Bowey)
Penalties/Pénalités:
03:11 CZE Filip Pyrochta (Holding/Retenir
08:46 CZE David Kampf (Hooking/Accrocher)
14:26 CZE David Pastrnak (High Sticking/Bâton élevé)
19:36 CAN Yan-Pavel Laplante (Elbowing/Donner du coude)
Second Period/Deuxième période
Goals/Buts:
18:31 CAN Connor McDavid (Sam Bennett, Shea Theodore)
18:57 CAN Nick Baptiste (Shea Theodore)
Penalties/Pénalités:
01:31 CAN Carter Verhaeghe (Slashing/Coup de bâton)
07:23 CAN Dillon Heatherington (Hooking/Accrocher)
11:30 CAN Connor McDavid (Slashing/Coup de bâton)
14:01 CZE Patrik Zdrahal (Tripping/Faire trébucher)
Third Period/Troisième période
Goals/Buts:
05:45 CAN Connor McDavid (Nick Baptiste, Sam Bennett) PP/AN
08:31 CAN Connor McDavid (Sam Reinhart, Morgan Klimchuk)
15:10 CAN Laurent Dauphin (Nick Baptiste, Samuel Morin)
Penalties/Pénalités:
03:05 CAN Nick Baptiste (Holding/Retenir)
03:25 CZE David Kampf (High Sticking/Bâton élevé)
04:47 CZE Roman Prikryl (Tripping/Faire trébucher)
11:04 CAN Josh Morrissey (Cross-checking/Double-échec)
Goaltenders/Gardiens de but
CZE
Jindrich Pacl

CAN
Philippe Desrosiers

| Shots on Goal/Tirs au but | 1 | 2 | 3 | Total |
| --- | --- | --- | --- | --- |
| CZE | 5 | 11 | 3 | 19 |
| CAN | 15 | 10 | 12 | 37 |
Players of the Game/Joueur de match
CZE
-
CAN
-