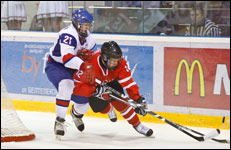 CANADA 4 - SLOVAKIA 2
RELEGATION | THURS. APR. 22
Seventh place belongs to Canada following a victory over the Slovakians in its tournament finale. Steven Shipley, Quinton Howden, Ryan Spooner and Christian Thomas all scored first-period goals for the Canadians.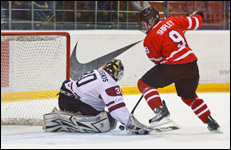 CANADA 5 – LATVIA 1
RELEGATION | WED. APR. 21
Jordan Weal scored twice and added an assist and Michael Sgarbossa and Michaël Bournival had a goal and a helper each as Canada ensured it would not be relegated with a victory over the winless Latvians.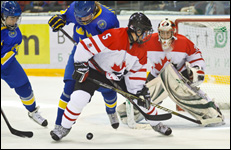 CANADA 4 – SWEDEN 5
PRELIMINARY | SUN. APR. 18
Ryan O'Connor, Christian Thomas, Freddie Hamilton and Quinton Howden all scored third-period goals to make it close, but Canada dropped its third preliminary game and will take part in the relegation round.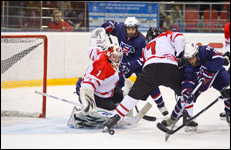 CANADA 0 – UNITED STATES 5
PRELIMINARY | FRI. APR. 16
One day after scoring 11 times against Belarus, the Canadians could not get their offence in gear in a shutout loss against their North Americans rivals, putting Canada in danger of missing the U18 quarter-finals.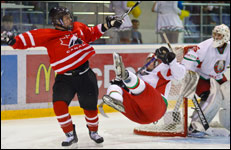 CANADA 11 – BELARUS 3
PRELIMINARY | THU. APR. 15
John McFarland notched a hat trick, Ryan O'Connor scored twice and Greg McKegg added a goal and three assists as Canada scored seven unanswered to pull away from the Belarussians and score win No. 1.
CANADA 1 – SWITZERLAND 3 PRELIMINARY | TUE. APR. 13
A slow start was too much for the Canadians to overcome as they lost to the Swiss at the U18 Worlds for the first time ever. Quinton Howden scored the lone goal for Canada, which trailed 2-0 after one period.