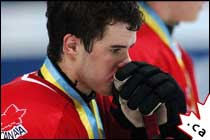 CANADA TAKES SILVER AT THE 2005 IIHF WORLD UNDER-18 HOCKEY CHAMPIONSHIP
PLZEN, CZECH REPUBLIC – Canada captures a silver medal at the 2005 IIHF World Under-18 Hockey Championship after a 5-1 loss to the USA in the gold medal game today in Plzen, Czech Republic. » more |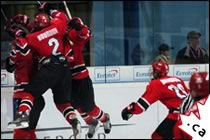 CANADA TO FACE THE USA
IN THE GOLD MEDAL GAME
PLZEN, CZECH REPUBLIC – Team Canada advances to the gold medal game after defeating the host Czech Republic today 3-2 on an overtime goal by Guillaume Latendresse in the semi finals. » more |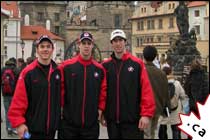 Wednesday, April 20, 2005 - It was a travel day for Team Canada at the U-18 World Championships on Wednesday as they moved to Plzen, Czech Republic for the start of the medal round.
After setting up camp in Plzen, the boys were rewarded for thier hard work and bye to the semi-final with a tour of the historic Town Square in the City of Prague. The players explored the Charles Bridge, gothic cathedrals
and the 9th century Prague Castle.
It's back to business on Thursday as Team Canada awaits the winner of the quarter final match-ups. The semi-final is set for Friday, April 22nd.
CANADA TO FACE CZECH REPUBLIC IN THE SEMI-FINALS AT THE 2005 IIHF WORLD UNDER-18 HOCKEY CHAMPIONSHIP
PLZEN, CZECH REPUBLIC – Team Canada will play the Czech Republic on Friday, April 22(7:00 p.m. / 1:00 p.m. EST) in the semi-final of the 2005 IIHF World Under-18 Hockey Championship in Plzen, Czech Republic. Canada received a bye to the semi-final as a result of finishing first in the A-Pool with a 3-1-0 record during the medal qualification round. » more
Team Canada got a much better effort today in thier second game of the 2005 U-18 World Championships in Ceske Budejovice, Czech Republic but did not get the final result they wanted.
OFF DAY FOR TEAM CANADA
Cseke Budejovice, April 15, 2005 - Team Canada took advantage of a non-game
day to have a quality practice and enjoy a team building activity. Practice time is of key importance for the Canadians as they have only been together as a team for a week. Following a high energy practice at Budvar Arena, the team spent the afternoon touring a 13th century castle. The exercise allowed the players, who have come together for this tournament from all over Canada, to relax and continue to develop chemistry.
CANADA OPENS WITH A WIN
AT THE UNDER-18
WORLD CHAMPIONSHIP
CANADA'S NATIONAL UNDER-18 PROGRAM ANNOUNCES ROSTER
FOR 2005 WORLD CHAMPIONSHIP
» more | Roster
SHAWN CAMP NAMED HEAD COACH OF CANADA'S UNDER 18 WORLD CHAMPIONSHIP TEAM; U18 COACHING
AND SUPPORT STAFF NAMED
» more