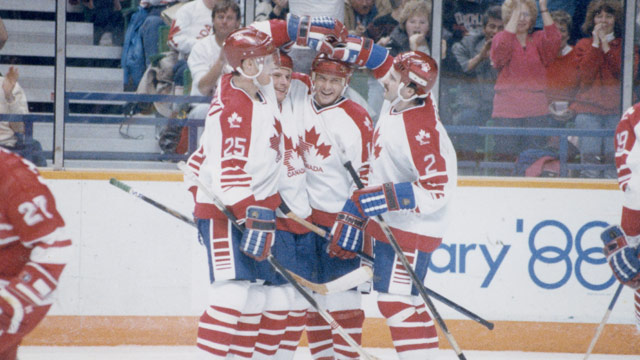 by David Brien
1988 – CANADA 9, FRANCE 5
The goals came fast and furious when Canada and France met at the Stampede Corral in Calgary.
Between Serge Boisvert's goal at 6:57 of the first period and Steve Tambellini's marker at 19:20, the Canadians and French combined for 10 goals, an Olympic record for goals in a single period.
After 20 minutes, the scoreboard read Canada 7, France 3.
For the Canadians, it was important to get off to a quick start in a game they were expected to win.
"We were by far the heavy favorites to beat France in that game," Boisvert says. "We felt that all the pressure was on us. We knew they weren't better than us, but it was the Olympics, every game was important."
Boisvert scored the first two goals for Canada, sandwiched around a French goal from Philippe Bozon. After Trent Yawney made it 3-1 the floodgates really opened, with six goals in 3:04 – four by Canada, two by France – to close out the wild period.
In the end, 13 Canadians had at least a point in the first period, led by two goals and an assist from Boisvert and a goal and two helpers from Marc Habscheid.
Not surprisingly, the teams could not keep up the frenetic offensive pace; France had the lone goal of the second period before Canada capped its win with two in the third, including Boisvert's hat trick goal.
Every crowd likes goals, and the fans at the Corral got plenty.
"It was a very upbeat game with lots of goals scored," Boisvert recalls. "That was obviously pleasant for the people in the audience, but in the end they also got to witness their home team leave with a win."
OTHER GAMES
1960 – Bobby Rousseau scored four times, Fred Etcher and George Samolenko added three goals each and Canada routed Japan 19-1 to improve to 2-0 and clinch first place in Group A in Squaw Valley, Calif. Etcher finished with seven points in the win.
1980 – Jim Nill, Randy Gregg and Brad Pirie scored goals to give Canada a 3-1 lead early in the second period, but the Soviet Union rebounded to earn a 6-4 victory over the Canadians in the preliminary round finale for both in Lake Placid.
1998 – Trevor Linden scored with 63 seconds left to tie the game, but Czech Republic goaltender Dominik Hasek stopped all five Canadians in the shootout to lead to Czechs to a 2-1 semifinal win and send Canada to the bronze medal game in Nagano.
2002 – Joe Sakic scored in the first period, Steve Yzerman got the game-winner in the second and Martin Brodeur stopped 18 shots as Canada advanced to the semifinals with a 2-1 quarter-final victory over Finland.
2006 – Jayna Hefford had a goal and an assist, Hayley Wickenheiser added two helpers and Canada held Sweden to just eight shots on goal to win its second consecutive Olympic gold medal with a 4-1 win in Turin.