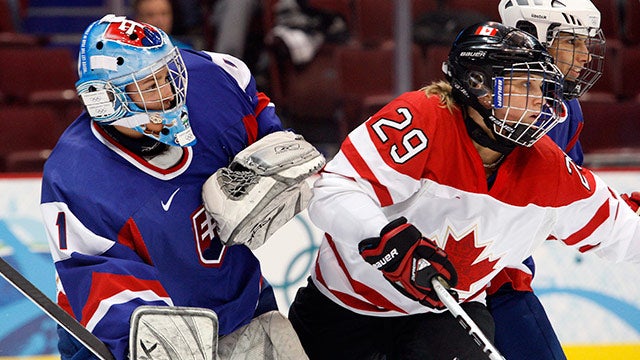 by David Brien
2010 – CANADA 18, SLOVAKIA 0
It was Canada's first Olympic hockey game on Canadian ice in 22 years, the first women's Olympic game ever in Canada, and it was a moment none of the players will ever forget.
"Walking onto the ice for that very first game was incredible," says former Team Canada defenceman Carla MacLeod. "The energy was electric, I got full body shivers and I truly couldn't believe I was experiencing that environment. I wish I could've had a camera perched on my shoulder and was somehow able to bottle the internal emotion I felt, because I would love for everyone to have that experience."
The game itself lacked excitement; Jayna Hefford had a hat trick and three assists to lead the offence, while Meghan Agosta chipped in with a hat trick and two assists and MacLeod had two goals and two helpers.
Canada tied its own Olympic record for goals in a period, scoring seven times in the first, and set a record for goals in a game. In all, 11 players had goals, and 17 of the 18 skaters put their name on the scoresheet with at least a point.
For MacLeod, and the rest of Team Canada, it was the first step towards a third Olympic gold.
"Some of our competitors said that playing in your home country is more pressure and could be too much to overcome. My reply is, maybe in their country that is the case, but not in Canada. We're not about pressure, we're about support. I knew we had the crowd behind us the moment we stepped foot on the ice to play Slovakia."
When the final buzzer sounded, the Slovakians stepped to centre ice to salute the fans at Canada Hockey Place, and were met with an ovation that almost rivalled the host country.
"It was at this moment I was so incredibly proud to be Canadian," MacLeod says. "The 15,000 fans gave the Slovakian team a rousing and extended standing ovation.
"They appreciated that the Slovaks had worked incredibly hard to qualify for the Olympics and the fans appreciated that they never gave up. I think that moment will stay with me forever."
OTHER GAMES
1932 – With the gold medal on the line, Canada and the United States played 30 minutes of overtime without a goal. The 2-2 tie was enough to give the Canadians their fourth Olympic gold medal in as many tries.
1936 – Canada beat the host Germans 6-2 in Garmisch-Partenkirchen, clinching a spot in the medal round.
1968 – After a three-goal outburst in the second period, Canada held off Czechoslovakia in the final 20 minutes to score a 3-2 win, improving to 4-1 and remaining in the hunt for a medal.
1984 – Dave Gagner added two assists to his hat trick for a five-point performance – the most by a Canadian since the national team era began in 1964 – and Russ Courtnall had a goal and two assists to lead Canada past Norway 8-1.
1994 – Petr Nedved (two goals, one assist) and Paul Kariya (one goal, two assists) led the way with three points each as Canada opened its Olympic schedule in Lillehammer, Norway, with a 7-2 win over Italy. Chris Kontos also scored twice for the Canadians.
1998 – Canada's first Olympic hockey game to feature NHLers was a success; Eric Lindros scored twice, Ray Bourque had a goal and an assist and Patrick Roy made 18 saves for the lone shutout of his international career in Canada's 5-0 win over Belarus.
2002 – Hayley Wickenheiser had a goal and two assists, Danielle Goyette scored twice and Sami Jo Small needed to make just six saves for the shutout as Canada blanked Russia 7-0 to improve to 2-0 in Salt Lake City.