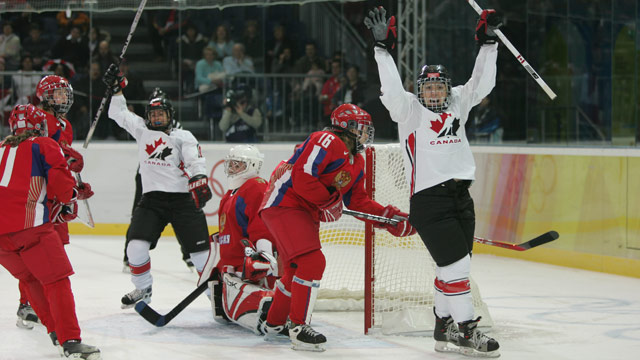 by Wendy Graves
2006 – CANADA 12, RUSSIA 0
Meghan Agosta celebrated her 19th birthday in style, scoring a hat trick as Canada defeated Russia.
"I just wanted to play the best I could so I could remember that," says Agosta. "I scored one goal and I was super happy to score a goal on my birthday. And then I popped another two in to make it a hat trick. It was pretty surreal and something I'll never forget."
Cherie Piper scored three times as well, with Hayley Wickenheiser adding a goal and three assists. Canada also got goals from Vicky Sunohara, Danielle Goyette, Katie Weatherston and Carla MacLeod.
Charline Labonté recorded the shutout in her first Olympic game.
With Canada already leading 1-0, Agosta scored her first of the game just before the seven-minute mark of the first. "I got a pass out front [from Gina Kingsbury] and tapped the puck between the goalie's legs."
Canada continued to overwhelm the Russians in the opening 20 minutes. After Piper's second goal made it 5-0 only 16 minutes in, Russia changed its goalie hoping to change its luck. Instead, Wickenheiser scored the team's second shorthanded goal a few minutes later and as time expired on the period Agosta deked the goaltender on the breakaway to make it 7-0.
She completed the hat trick in the second period when she buried her own rebound.
Canada scored three more times in third. In total, 14 players found their way on to the score sheet.
What made the game extra special for Agosta was having her parents, sisters and brother there cheering her on and waving a Happy Birthday sign.
Agosta celebrated with her family afterward. Her parents even had a cake for her, as did her teammates earlier in the day. "It's the cool things that you do that are memories that will last a lifetime."
OTHER GAMES
1936 – Herman Murray set the tone early, scoring 20 seconds in – the fastest goal ever from the start of the game for Canada – as his team rolled over Hungary 15-0. Ken Farmer (five goals) and Hugh Farquharson (four goals) led the Canadian attack.
1980 – The Netherlands scored the opening goal two minutes in, but Canada scored the next 10 – including six times in the third – to easily win its tournament opener. Ken Berry scored a hat trick, Dan d'Alvise scored twice, and John Devaney and Kevin Maxwell added three points each. Berry and d'Alvise scored on the power play 36 seconds apart in the final period, the fastest ever for Canada on the man-advantage.
1992 – Nine players chipped in with multiple points – Joe Juneau led the way with four assists; Eric Lindros and Randy Smith added a goal and two assists apiece – and Canada defeated Norway 10-0. Norway didn't get a shot on goal in the third period, as Trevor Kidd recorded the shutout in his Olympic debut.
1998 – Canada built a 3-0 over Finland halfway through the game thanks to two goals from alternate captain Therese Brisson and a single from Geraldine Heaney. Finland outscored Canada the rest of the way, but Canada hung on for a 4-2 win.