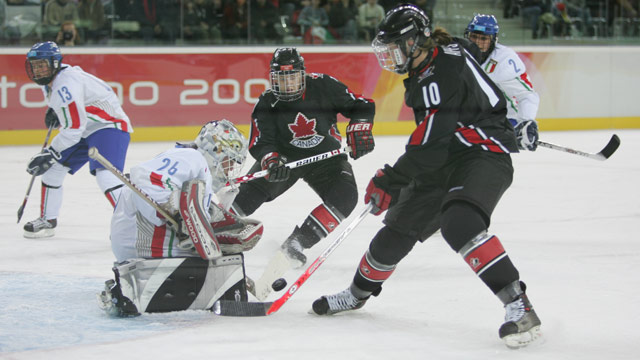 by David Brien
2006 – CANADA 16, ITALY 0
Canada's big line was its big line against the host Italians, with Gillian Apps, Cherie Piper and Hayley Wickenheiser combining for 17 points in the one-sided victory.
Wickenheiser led the way with a hat trick and three assists, Piper had six helpers and Apps finished with two goals and three assists for the Canadians, who opened defense of their Olympic gold medal with a win over the host country.
"Apps and Wick were two of my favorite linemates to play with," Piper says. "It was easy to play with them. Our skill sets complimented each other and we were able to create lots of offence, but also take care of our defensive responsibilities."
After Caroline Ouellette owned the first period, scoring a hat trick in the first 6:53 to help Canada to a 5-0 lead after one, Piper's line took over in the second; she picked up three assists in the frame as the Canadians led 9-0 after two.
Piper picked up her fifth and sixth assists in the third period, and Apps added her two goals in the final frame.
In total, 11 different players scored goals and 15 had at least a point, while Kim St-Pierre needed to make just five saves for the shutout, including just two over the final 40 minutes.
When asked about the Torino crowd's reaction to such a one-sided game, Piper remembers: "The Italian crowd was very gracious. They were cheering for them as well as cheering for us when we had nice plays."
OTHER GAMES
1968 – Canada scored twice in the third period to erase a 2-1 deficit and beat the United States 3-2. Ray Cadieux had a pair of goals to pace the Canadian offence in Grenoble, France.
1984 – Darren Lowe, Craig Redmond and Dave Gagner scored goals in a span of 9:55 to help Canada fight back from a one-goal deficit after two periods and knock off Finland 4-2. Bruce Driver had the other goal for the Canadians.
1998 – Danielle Goyette opened and closed the scoring for Canada, and Nancy Drolet added a goal and an assist to lead Canada over Sweden 5-3 for its third consecutive win in Nagano, Japan.
2002 – Canada debuted its black heritage jersey, scoring five times on the power play in a 7-0 tournament-opening win over Kazakhstan. Hayley Wickenheiser and Vicky Sunohara scored two goals each for the Canadians, while Danielle Goyette had a goal and two assists.