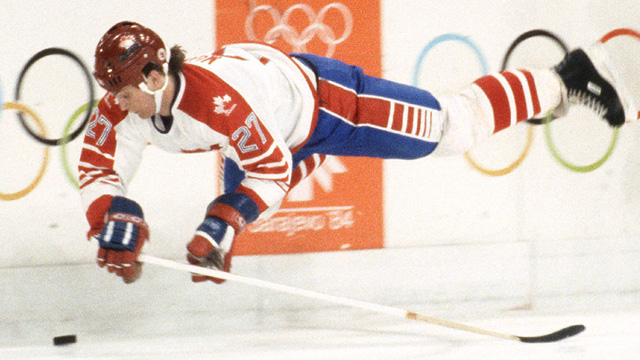 by David Brien
1984 – CANADA 8, AUSTRIA 1
Being the youngest to ever play for Canada at an Olympic Winter Games wasn't enough for Kirk Muller, he needed to be the youngest to score a goal, which he did – two, in fact – to lead Canada over Austria.
Muller scored the eventual game-winner on the power play 12 minutes into the first period, and made it 3-0 just 13 seconds into the second; that goal remains the third-fastest to start a period in Canadian Olympic history.
"We had a great group of guys," Muller recalls. "We were young and had a good mix of both junior and college guys bonding together quickly. We all had the same passion and shared the same goal; to do well over at the Olympics.
"Back then Carey Wilson and Pat Flatley were sort of the veteran guys because they had some experience playing university hockey down in the States and all. It's funny to say that those were veterans since they were only 20-something years old."
Wilson had a goal and an assist in the win over Austria, while Flatley added a helper for the Canadians, who scored the game's first six goals.
Dave Donnelly, Bruce Driver, Dave Tippett, Dave Gagner and Craig Redmond had the other goals for Canada, which won its second game in as many days to open the Games in Sarajevo, Yugoslavia.
Muller, now the head coach of the Carolina Hurricanes, remembers the 1984 Olympics as a stepping stone towards developing his skills as both a player and coach. "Dave King was ahead of his time in many of his coaching techniques. He was big on the X's and O's, video and training methods."
When asked if he thought any Canadian hockey player would ever take part in the Olympics at a younger age than him, Muller chuckled. "It's hard to rule it out because there's always going to be that next superstar that will roll along and make it hard not to include him."
OTHER GAMES
1932 – Canada blanked Poland for the second time in three days in the four-team double round robin, scoring a 10-0 win to improve to a perfect 5-0 in Lake Placid. Stanley Wagner earned the shutout in his first Olympic start.
1968 – Morris Mott scored four times – the most recent four-goal game by a Canadian – and Fran Huck added two to help Canada bounce back from a loss and rout East Germany 11-0. The Canadians racked up 51 shots on goal, their fifth-most ever in a single game.
1998 – Chinese goaltender Hong Guo made 38 saves, but second-period goals from Danielle Goyette and Vicky Sunohara were enough to lead Canada to a 2-0 preliminary round win. Manon Rhéaume needed to make just eight saves for the shutout.