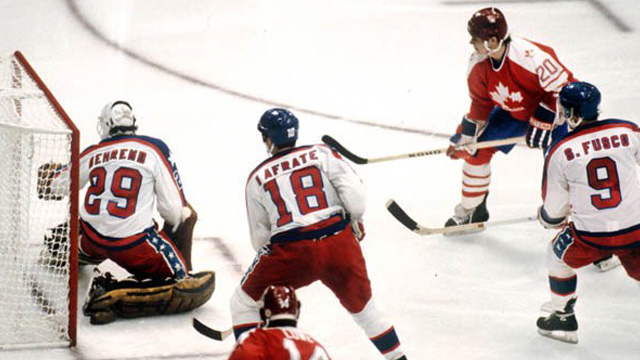 by David Brien
1984 – CANADA 4, UNITED STATES 2
For the first time since its Miracle on Ice win four years earlier, the United States stepped onto the ice at the Olympic Winter Games, facing Canada in the opening game for both in Sarajevo, Yugoslavia.
While most of the initial attention was on the American squad, it was Canadian forward Carey Wilson that quickly stole the spotlight. Very quickly, in fact; Wilson opened the scoring by netting his first Olympic goal after only 27 seconds.
"Scoring early really gave the team an extra confidence boost," says Wilson 30 years later. "It was so early that it was advantageous and certainly set the tone going in."
The early goal was just the start for Wilson, who added a second goal on a first-period power play and capped his hat trick midway through the third, leading the Canadians to a 4-2 victory.
"What I remember first and foremost was the win," says Wilson. "I remember the importance of my accomplishment sinking in after the game as I was ushered off to a table that was literally full of microphones to answer questions from reporters from around the world. That's when I went 'wow!' "
Just how tough is it to score a hat trick at the Olympics? Wilson's teammate, Dave Gagner, pulled off the feat six days later, but just once since then – Gord Sherven on Feb. 27, 1988 – has a Canadian found the net three times in a single game.
OTHER GAMES
1932 – Canada, represented by the Winnipeg Hockey Club, won for the third time in four days and recorded its first shutout of the games in Lake Placid, with William Cockburn blanking Poland 9-0.
1936 – The Port Arthur Bearcats, representing Canada, shut out Latvia 11-0 to improve to 2-0 in Garmisch-Partenkirchen, Germany. Hugh Farquharson scored four times and added three assists, and Ralph St. Germain had three goals of his own for the Canadians.
1948 – Wally Halder and George Mara scored four goals apiece, and Halder added three assists for a seven-point performance, to lead Canada, represented by the RCAF Flyers, to a 12-0 victory over Austria in a penalty-free game by both teams.
1964 – Canada opened the scoring, but suffered its first loss of the Games in Innsbruck, Austria, falling 3-1 to Czechoslovakia to put its gold medal hopes in jeopardy.