Bubble Blog: Chris Hamilton
The equipment manager talks about the excitement of getting back into the team environment at Canada's National Junior Team Sport Chek Selection Camp, and what his day-to-day looks like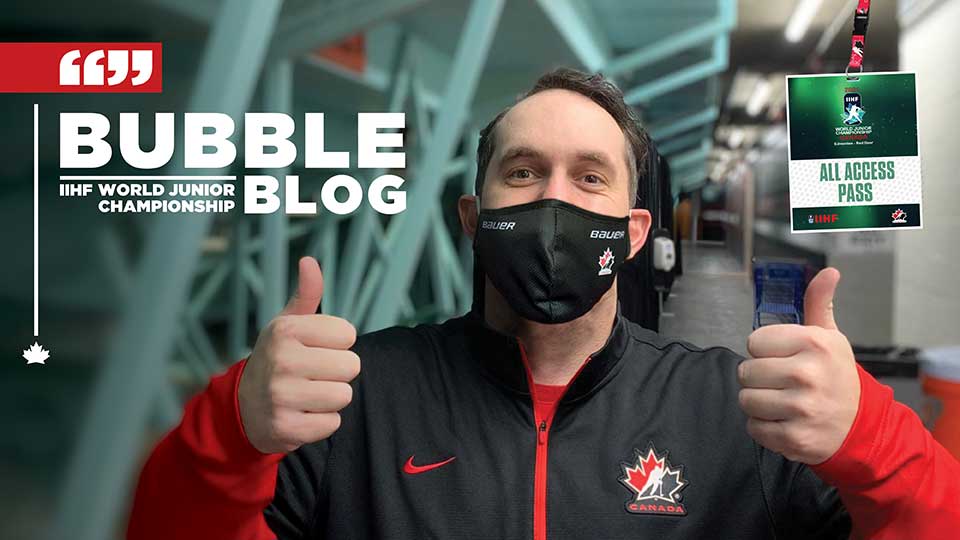 Echoing what Millsy said in his blog, the last eight months have been strange when you are used to coming to the rink every day. It's one thing to lose, but another to have your season just end. Ever since I received the call from Scott Salmond to take part in the World Juniors, this has been sort of a light at the end the tunnel.
There were a lot of emotions as the days counted down to camp in Red Deer – excitement, joy, pride, but also anxiety. This is my fourth time working with Hockey Canada as an equipment manager, so I had some idea of what to expect, but this is also my first World Juniors.
I am lucky to have an experienced training staff around me in Brian Cheeseman, Kevin Elliott, Brian St-Louis and Adam Douglas. Cheese, Kevie, and AD take care of the medical and fitness side of things, while Saint and I handle the equipment needs of the players. It's a great team and we have had a lot of fun already. They even let me put old Taylor Swift on in the mornings at the rink. Nice guys.
Training camps at any level, in any league, are a grind. Doing it remotely also creates new and different challenges. Saint and I first met with the players during our virtual camp in the summer. We met with each player to discuss their equipment needs and stick specs, and just tried to get to know them better. Leading into camp in Red Deer we touched base once again and made sure we were prepared for the start of camp. We want to make sure the player has exactly what he needs to excel while he is here.
It's tough to describe what you're feeling when you first pull up to the rink with the cube van and pop it open. Yes, obviously you're excited, pumped and ready to go … then the door of the van opens and the truck is jammed! You know long days are ahead, but I'll share a secret … I love that grind. No different than unpacking a bus with the Ottawa 67's.
The goal of the set-up is to make the rink feel like home. Make the rink ours. We also aim to provide anything and everything (which, as you would expect, is a lot of stuff) that players or coaches could possibly need. We have several trunks, bags and bags of equipment, tools, med bags, Gatorade, coolers, signage, etc., and just like when you're at home, everything needs to be organized and look good. And since we have the rink to ourselves, space is not an issue! The first 3-4 days were long; we were going to the rink around 7 a.m. and getting back to the hotel around 9:30-10 p.m. every night. The days race by, but time flies when you're having fun! Next thing you know its game day, and after the last eight months, oh what a feeling!
Saying all that, the best part of the experience is not the fact that I get to do my job again (I LOVE my job but I don't do it because I like to do laundry!) but getting to be part of a team again. Junior hockey dressing rooms are special, let me tell you. Having a coffee and hanging around the room with the players. The jokes, the chirps, the stories, the bad music … Wow, did I miss that! It makes all those hours grinding well worth it. You develop unique relationships with each guy, and that's something that I cherish and never take for granted. They make it all worth it.
After a great first week or so, it's tough to be quarantined right now. But we know that it's part of the world we live in, and we'll make the best of it. The boys will have plenty to do, plenty of ways to stay connected, and we'll come out of this stronger and hungrier.
I can't wait to spend the next month and a half with this group of staff and players. We will all be working, grinding and having the time of our lives so that we bring home that gold medal in January.
Hammy