Bubble Blog: Brian Cheeseman
The therapist talks about the efforts of volunteers in the bubble and how the team spent the holiday season, and gives thanks to the friends and families who are supporting from afar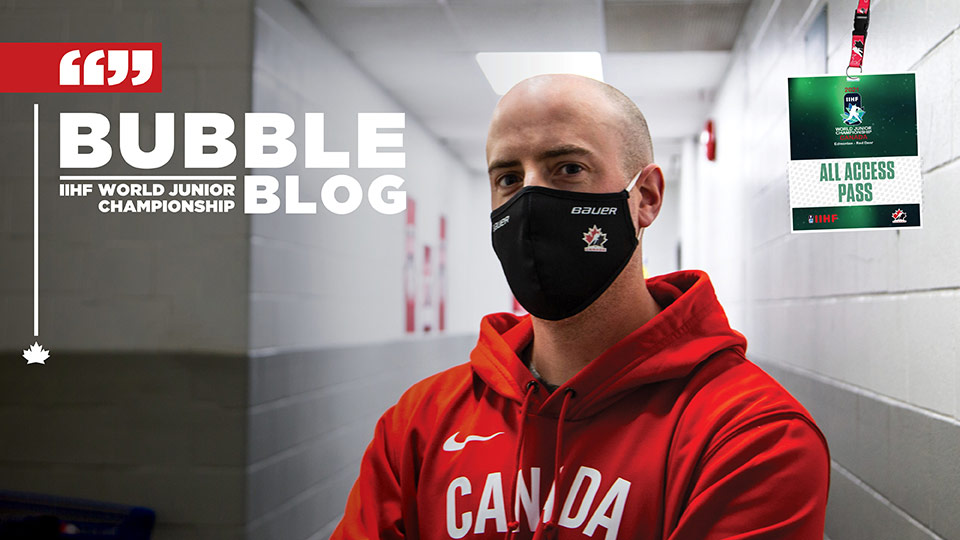 Wednesday, December 30
Greetings yet again from inside the bubble here in Edmonton. To say it has been fantastic to be back in the familiar confines of Rogers Place would be a massive understatement. To be able to use the Oilers' state-of-the-art dressing room has been a blessing, and a special thank you is extended to them on behalf of Hockey Canada for allowing us access to their hockey home away from home.
The team services staff here in the bubble has gone above and beyond taking care of all the teams this year, and kudos should be extended to them for all of their long hours and hard work. Seeing familiar faces around the building – building staff, cleaning staff and security staff – has been a fantastic reminder of what it takes to help pull off an event of this magnitude in any year, let alone in the midst of a global pandemic.
For me, the bubble this time around has been a different experience. My role during the NHL bubble was more a support role for all the teams and involved a lot of laundry, bench set-ups and restocking dressing rooms. But now I am back in the treatment room and on the bench, doing what I love as an athletic therapist, and the fact December 23 marked my first competitive hockey game since March 7 is a thought not lost on me. For all of my colleagues in the hockey world who have yet to return to work this year, our support staff has you all on our minds as we stand on the bench for the World Juniors. Here's hoping for a return to normalcy in the new year for all of us – not just those in the hockey world.
Since my last check-in with you, we have played three games and had countless opportunities to bond as a team during the holiday season. We had our team meal on Christmas Eve and it even featured a special visit from Santa and his elves. I am happy to report that everyone made the nice list this year! In our down time, players and staff can be found playing cornhole, ping pong and video games in our spacious meal room at the J.W. Marriott. Thanks to Canadian country music star Brett Kissel, we also have two acoustic guitars to play. Perhaps myself, Alex Newhook and Dawson Mercer will host our own bubble version of a Newfoundland kitchen party one of these evenings.
Being away from family and friends during the holidays can be difficult, but we recently received a special surprise thanks to Hockey Canada. Families of staff and players were contacted, unbeknownst to any of us, and asked to send a special Christmas/good luck video message. It was an incredible feeling to be able to see the pride and joy on the faces of everyone as they got to watch their message of support from home. None of us would be capable of doing our part if it wasn't for the support of our loved ones at home, and trust me when I say this – we want nothing more than to make them proud and honour them for their sacrifices.
If you ask any player, coach or staff member what they enjoy the most, the unanimous answer would be game day. There's really nothing quite like a game day! The energy is palpable in the dressing room. The music is pumping, players are going about their routines, sticks are being taped, skates are being sharpened and treatments are taking place. Lots of hard work is going on behind the scenes to make sure our players and coaches have everything they need to hit the ice and perform to the best of their capabilities.
I once read a quote that said, "Do what you love and you'll never work a day in your life," and I can honestly say that is a mantra that rings true for this group.
Until next time, cheer loud and be proud.
Go Canada Go!
Cheese
---
The therapist talks about coming back "home" to Edmonton for the World Juniors, getting ready for his second bubble experience and giving Canadians something to cheer about during a unique holiday season
Tuesday, December 15
The commute to downtown Edmonton – my adopted hometown – was the same as it is every day, but the destination and view is a little different this morning. On a normal December day, I'd be pulling into Rogers Place and heading to my office in the Edmonton Oil Kings dressing room. But today I'm writing from the beautiful J.W. Marriott across the street from the rink, where in a few short days we will exit our quarantine and begin life inside the World Juniors bubble.
This will be my second bubble experience; I was fortunate to have spent 65 days working in a team services support role during the NHL Stanley Cup Playoffs. That was an incredible experience and one that allowed me to gain some valuable insight into how the World Juniors will work. I guess you could say I'm a bit of a bubble hockey specialist at this point!
As we entered the city yesterday and made the climb out of the beautiful Edmonton River Valley, I couldn't help but think just how special this event is – not only for myself as a member of the Team Canada staff, but for our whole country. From coast to coast to coast, the COVID-19 pandemic has touched everyone in a way that I'm sure many of us would've never thought we would ever experience in our lifetimes.
A lot of Canadians have spent the last few months working from home in our so-called "new normal." Front-line workers have been working tirelessly for months to provide us with the best medical care possible and to have all the necessary supply lines open and moving to ensure we have access to everything we need. I want to express my gratitude to all of you for your long hours and hard work, especially my brother Neil, who is an ER doctor in St. John's, N.L. We all know someone who has played their role during these tough times, and I can say wholeheartedly that we are looking forward to paying you back by providing an escape from the rigours of your day-to-day grind during the tournament.
The excitement and pride within our of players, management, coaches and support staff has been steadily rising over these last few days. I can say without a doubt that there isn't a single person involved in our team that doesn't understand the importance and the magnitude of this event in such a different year. Over the course of my athletic therapy career I've had the honour and privilege to work several events with Hockey Canada and have been a part of some incredible teams. But there's something special about this group of staff and players, and the words 'tight knit' don't really do it justice. Spending 14 days in isolation in Red Deer allowed us to grow even closer as a team off the ice, which will undoubtedly transfer over to our on-ice play. I spent a great deal of my time in quarantine reflecting on my love for the game and channeled that into music with my guitar.

A special thank you should be extended to the Red Deer Rebels and the City of Red Deer for their fantastic hospitality during our selection camp there. The send-off provided to the players before the bus headed north on Highway 2 was a fantastic and very classy gesture!
We have members of our team from every corner of our great country, and regardless if they grew up skating on a frozen pond or an indoor arena, they all dreamed of having the opportunity to not only represent their country, but to win a gold medal on home ice in a tournament that has become a Canadian holiday tradition. So on Boxing Day please put on your red and white, turn on your television and cheer loud and proud for this group as we set out on the journey to give this country some light in these dark times.
I am humbled and honoured to play a small role and I cannot wait for the puck to drop!
Cheese