Save-On-Food Ticket Donation Program | 2019 World Juniors
---
The 2019 IIHF World Junior Championship is coming to Vancouver and Victoria. A tradition for millions of hockey fans across Canada and around the world, the most exciting hockey of the holiday season hits the ice beginning Boxing Day! To help spread the excitement, the World Juniors are proud to announce the Save-On-Foods Ticket Donation Program, to ensure everyone has an opportunity to attend this world-class event!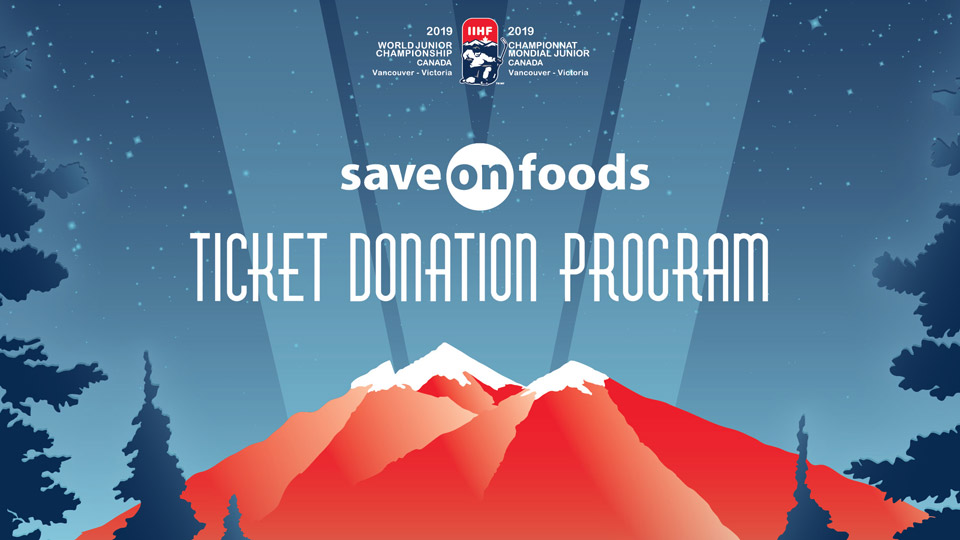 We want to give ticket owners the chance to give back to the community and ensure their tickets are being used for all games. The Ticket Donation Program will allow a number of underprivileged children, youth and families to enjoy a once-in-a-lifetime experience. Not only will the minor hockey community benefit from the program, but thanks to donations and a network of partners operating in the education, health and community-service sectors, hockey fans across both host cities will be able to participate in the World Juniors!
How can you be part of the Save-On-Foods Ticket Donation Program?
Ticket Owners, you will have access to the Ticket Donation Button found within your Customer login profile.
When selecting the Ticket Donation Button, you will see your game tickets listed where you will be able to select the desired tickets for donation.
Once selecting tickets and submitting them for donation, we will receive an automated email containing your E-tickets to donate to our list of identified organization and minor hockey teams.
Thank you for donating to the Save-On-Foods Ticket Donation Program!