HALL SCORES TWO AS CANADA BEATS SWITZERLAND 6-1 TO REACH GOLD MEDAL GAME
SASKATOON – Taylor Hall and his Canadian teammates are one win away from making hockey history. Hall scored two goals as Canada beat Switzerland 6-1 on Sunday in semifinal action at the world junior hockey championship, giving the Canadians a chance at a record sixth straight gold medal.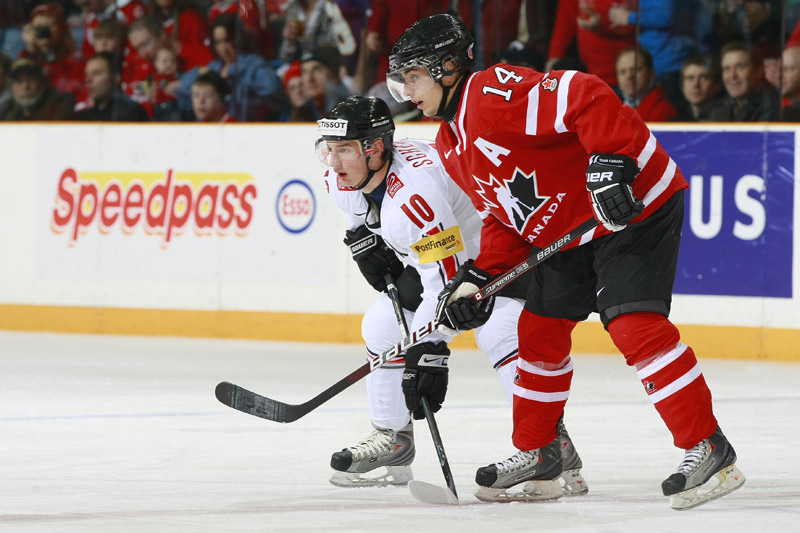 ''It's very special,'' the gifted left-winger said. ''When you're put in that position, you do everything you can to achieve it. ''This is the opportunity of a lifetime for us, just to get to the final. To win that sixth goal medal would be unbelievable.'' Defenceman Marco Scandella's short-handed goal in the second period proved to be the game-winner as Canada reached the final for a ninth year in a row.
They will play the winner of a later Sweden-U.S. game in the final on Tuesday night (TSN, 8 p.m. ET). Canada is guaranteed to win a medal in a 12th straight world junior tournament. ''It's one thing to go to the world juniors, but another to be competing for a gold or silver medal,'' added Hall, a favourite to go first overall in the NHL draft who hasn't hurt his prospects with five goals in as many games at the world juniors. ''Everyone's jacked up about it and hopefully everyone brings their A-game.''
Switzerland, which pulled out a stunning 3-2 overtime win in the quarter-finals over Russia on Saturday night, will play for the bronze medal. The only world junior medal won by the Swiss was a bronze at the 1998 tournament. Jordan Eberle, with his sixth of the tournament, Brayden Schenn and Stefan Della Rovere also scored for Canada, which outshot the Swiss 44-21 before a less than sellout crowd of 13,427 at the Credit Union Centre.
Mauro Jorg scored Switzerland's goal. Travis Hamonic, Scandella's defence partner, was shaken up as things got chippy in the final minute and he was boarded by Swiss forward Jeffrey Fuglister, who was given a major and a game misconduct. Coach Willie Desjardins said he would have a better idea about Hamonic's condition on Monday, but wasn't upset at the hit. ''The guy played hard and finished his check – I don't think it was more than that,'' he said.
He was more perturbed with Canada taking four straight minor penalties in the second period, all deserved, and liked how his team stayed out of the box in the third. The Swiss did their best to clog the neutral zone and play for counterattacks off turnovers, which worked well against Russia but wasn't enough against a more physical Canadian team. Coach Jakob Kolliker, who was missing top defencemen Luca Sbisa and Roman Josi for a second game in a row, said pulling off upsets on consecutive nights was too much to ask. ''We played well, but our strength was down, our batteries were down after our game with the Russians,'' he said. ''We wanted to keep it close for as long as possible. The short-handed goal hurt us too much to come back.''
After Eberle scored the lone first-period goal, Canada was killing a holding call on Ryan Ellis when Gabriel Bourque broke down the right side and made a perfect feed to the onrushing Scandella, who just tipped it past Swiss goalie Benjamin Conz. ''I saw an opportunity to get a bit of ice and Bourque gave me an unbelievable pass,'' said Scandella, the nephew of former NHL forward Sergio Momesso who was named Canada's player of the game. ''I just blanked out. I watched it trickle in and I was so happy.'' Canada scored on its first power play as an Ellis point shot deflected to Eberle, who beat Conz with a high shot at 3:48. The Canadians failed to add to their lead in the first despite 19 shots in the period.
The goal lifted Eberle into a tie with Jason Allison for second place all-time in points among Canadians with 24. He also tied John Tavares for the goals record with his 12. Less than two minutes after Scandella's goal, Hall took a feed from Stefan Della Rovere and slid in his fourth of the tournament. The Swiss called a timeout, and got themselves back in the game when Nazem Kadri was sent off for boarding. Nino Niederreiter won the faceoff and Jorg beat Jake Allen with a screened shot from the top of the right circle at 12:27.
Schenn scored on a rush down the left side when his pass attempt came back to him off Ramon Untersander and he beat Conz with a backhander 2:56 into the third. Canada failed to score on a two-man advantage for 1:30, but then put in two in a 28-second span late in the game as Della Rovere converted a feed from Jordan Caron and Hall went around the net to stuff in a sixth goal. Alex Pietrangelo had two assists to give him 11 points in the tournament, tops among defencemen. Brandon McMillan also had two helpers.
Canada beat Switzerland 6-0 in round robin play, outshooting them 54-15. Switzerland was relegated at the 2008 tournament and won the B-pool last year to get back into the top level of international junior hockey. In an earlier relegation game, the Czech Republic downed Latvia 10-2 on three goals from Tomas Knotek. Notes: Canada is 18-0 and has outscored Switzerland 122-32 all-time in world junior games ... Niederreiter was credited with the overtime goal in Switzerland's 3-2 win over Russia in the quarter-finals, even though replays showed Patrick Geering redirected his shot into the net.
Game Information/Renseignements sur le match
Game #/No. de match
25
Round/Ronde
Semifinal
Arena/Aréna
Credit Union Centre
Location/Lieu
Saskatoon, Sask.
Date
Sun. Jan. 03, 2010
Time/Heure
4:00 PM CT
| Box Score/Compte | 1 | 2 | 3 | Final |
| --- | --- | --- | --- | --- |
| SUI | 0 | 1 | 0 | 1 |
| CAN | 1 | 2 | 2 | 6 |
Goals & Penalties/Buts et pénalités
First Period/Première période
Goals/Buts : 03:48 CAN Jordan Eberle (Ryan Ellis) PP
Penalties/Pénaltés : 03:11 SUI Dominik Schlumpf (Tripping) 07:25 CAN Gabriel Bourque (Tripping) 11:14 SUI Reto Schappi (Holding)
Second Period/Deuxieme Période
Goals/Buts : 07:26 CAN Scandella (Gabriel Bourque, Brandon McMillan) SH 09:11 CAN Taylor Hall (Nazem Kadri, Stefan Della-Rovere) 12:27 SUI Mauro Jorg (Patrick Geering, Nino Niederreiter) PP
Penalties/Pénaltés : 03:50 CAN Patrice Cormier (Boarding) 06:23 CAN Ryan Ellis (Holding) 12:27 CAN Stefan Della-Rovere (Boarding) 13:49 CAN Jordan Eberle (Tripping) 15:32 SUI Tristan Scherwey (Interference) 18:22 SUI Lukas Stoop (Holding)
Third Period/Troisième Période
Goals/Buts : 02:56 CAN Brayden Schenn (Brandon McMillan, Alex Pietrangelo) 16:41 CAN Stefan Della-Rovere (Jordan Caron, Adam Luke) 17:09 CAN Taylor Hall (Marco Scandella, Colten Teubert)
Penalties/Pénaltés : 06:26 SUI Ramon Untersander (Holding) 12:25 SUI Lukas Stoop (Charging) 12:55 SUI Tristan Scherwey (Tripping) 19:02 SUI Jeffrey Fuglister (Checking from behind) 19:02 SUI Jeffrey Fuglister (Game misconduct)
Goaltenders/Gardien(ne)s de but
SUI
Benjamin Conz
On 1/00:00
Off 3/20:00
CAN
Jake Allen
On 1/00:00
Off 3/20:00
| Shots on Goal/Tirs au but | 1 | 2 | 3 | Total |
| --- | --- | --- | --- | --- |
| SUI | 6 | 7 | 8 | 21 |
| CAN | 19 | 11 | 14 | 44 |
Officials/Officiels
Referee/Arbitre
Keith Kaval, Christer Larking
Lines People/Juges de lignes
Paul Carnathan, Christian Tillerkvist-Jonsson