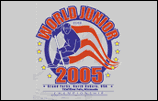 The 2005 IIHF World Junior Hockey Championship will be held in Grand Forks, North Datkota, USA.
Looking for the 2005 World Junior Site?...(Click Here)
CAN 2 RUS 3 in Gold Final
Canada sat one period away from the gold medal...(more)
BRING IT HOME
Canada's National Junior Team has become a family over the past month. And this family has adopted its own theme song.
The song "Bring It Home" was written by Team Coordinator Ron Pyette and recorded by the Calgary-based band,one nine hundred.
The song is inspired by Canada's goal of bringing the gold medal home, back to Canada.
The players have made the song their own, and it's the song they listen to before going on the ice, and the first song playing when they get back into the dressing room after games and practices.
Enjoy this song on this day, as Canada takes on Russia for World Junior Hockey gold.
Bring it Home
It's been a long road
But I've finally arrived
I've got one goal
Golden dreams in my eyes
Heart and soul
Don't let this pass by
This could be the greatest day of our lives
Oh can you feel it
The closer that we get
Just believe it
We're gonna get there yet
We'll sing that song with pride
When we're standing on that line
Together we will fly
When we Bring It On Home
We honour the flag
By wearing the red and white
Raise your heads up high
And spread your wings and fly
You lead the way
It's all up to you
Let's Bring It Home
Just like heroes do
And I will sacrifice myself
When the game is on the line
With my brother by my side
For our country we will die
Just to Bring It On Home
Chorus
WJHC All-Star Team
Goaltender
*Marc-André Fleury CAN
Defence
Carlo Colaiacovo CAN
* Joni Pitkanen FIN
Forwards
Yuri Trubachev RUS
*Igor Grigorenko RUS
Scottie Upshall CAN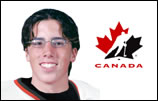 IIHF Directorate Awards
The IIHF Directorate award winners were announced during the Gold Medal game tonight.(more...)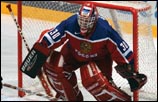 CANADA - RUSSIA:
The Not-so-friendly Rivalry
Since the 1972 Summit Series there have been many great games between Canada and Russia.(more...)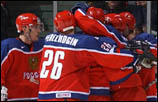 RUSSIA WINS GOLD WITH 3-2 WIN OVER CANADA
A rollercoaster of emotion ended in a 3-2 Russian victory tonight in Halifax before a raucous capacity crowd, as Team Russia captured the gold medal for the second time in two years.(more...)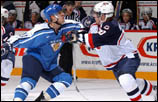 Bronze Medal Action
During the Bronze Medal game between Finland and USA, there was just under five minutes of agony for the fans, starting at 15:18 of the third period.(more...)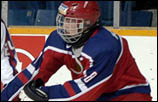 The Decisive Moment: Team Russia
Russia's decisive moment in the gold medal game of the 2003 IIHF World Junior U-20 Championship came at 11:09 of the third period.(more...)