2005 WOMEN'S UNDER-18 CHALLENGE
Team Alberta, Manitoba, Saskatchewan, Quebec, and British Columbia, along with a representative from the Atlantic Provinces will join two teams from Ontario to compete for the National Challenge. Players from these teams are among the top female hockey players chosen to represent their Province for the National Championship Title. Making this championship is the pinnacle of female minor hockey in Canada. It is also a lifetime highlight of many of the players' careers in amateur hockey. It is predicted that several of these young women will go on to play in the "2010 Olympic Winter Games in Vancouver".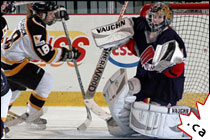 THE FORMAT
The Challenge consists of a round robin format with two pools of four teams. In also includes a playoff round of two semi final games, a Bronze Medal Game, and a Gold/Silver Medal Game.