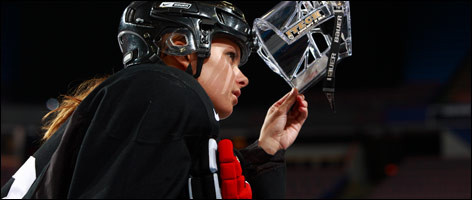 Females of all ages are lacing up their skates, whether for the first time or a full-time passion! Hockey is fun, safe, focused on fair play and fantastic exercise, and it's a great way to make new and life-long friends.
Through female hockey, players experience passion, exhilaration and excitement. They are given opportunities to learn and improve technical skills, challenge themselves, and have tons of fun!
AS A PLAYER there are many areas of development to push yourself through and learn about. In our player development section, you have all the resources you need, including articles, presentations, stories and videos to cover these areas and to help make you the best player you can be.
For more details and information, CLICK HERE
AS A COACH it is your responsibility to be up to date on the latest information to develop your players. Following the Hockey Canada Long Term Athlete Development model and other published resources, coaches have plenty of material to aid them in designing a single-day practice or a full-year plan.
For more details and information, CLICK HERE
Hockey Canada Skills Camps were developed to provide players with an opportunity to enhance their fundamental skills in a positive learning environment. The primary focus of the camps is centered on on-ice fundamental skills and off-ice life skill enhancement in the areas of fitness, teamwork and respect.
CLICK HERE to see if there is an event coming near you!
Esso Fun Days are unique to female hockey because the program presents and introduces the basic fundamental skills and rules of the game to first-time female participants of all ages for no cost.
The focus of the program is for participants to learn the basic skills, make new friends and give hockey a try without having to commit for an entire season.
CLICK HERE to find out more about the program, or to host one in your community!