Learn about the Chevrolet Good Deeds Cup
---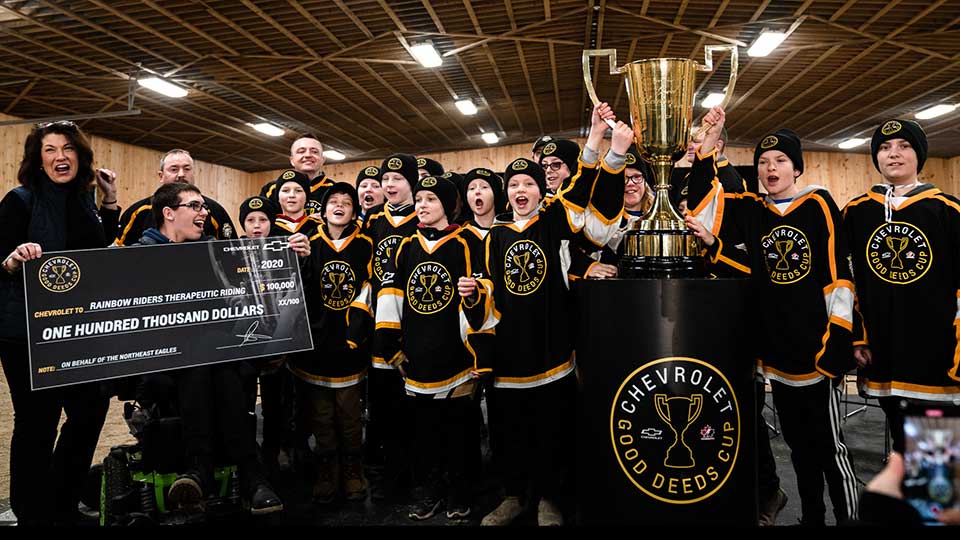 NORTHEAST EAGLES WIN CHEVROLET GOOD DEEDS CUP
The Northeast Eagles, a Peewee C team from Torbay, N.L., have won been crowned Chevrolet Good Deeds Cup champions for the 2019-20 season.
The Eagles rallied their community and raised $21,500 for the Rainbow Riders Therapeutic Riding Centre, a program that helps children with physical, mental and cognitive disabilities. The team will donate its $100,000 prize to Rainbow Riders.
The Eagles edged out the other two finalists, the South Winnipeg Kings and Regina Rebels, for the honour.
---
The Chevrolet Good Deeds Cup aims to inspire young Canadians to do good by transforming the positive values learned through hockey into Good Deeds within their communities. Along with our partners at Chevrolet Canada, our goal is to develop hockey players on and off the ice.
For the fifth year, Chevrolet asked that teams pitch Good Deed Ideas that would have a significant impact in their communities. Every team that participates has the chance to become this year's Champion and win a $100,000 donation to the registered charity of their choice.
In addition to the grand prize, Chevrolet has donated $50 to the Hockey Canada Foundation Assist Fund for each Good Deed idea submitted, helping more kids access Canada's game.
The Top 3 Finalists and Chevrolet Good Deeds Cup Champions will be announced March 20th, on Hockey Night in Canada, so be sure to tune in.
In the meantime, head to ChevroletGoodDeedsCup.ca to see this year's Regional Finalists, who all have a chance at becoming this year's Chevrolet Good Deeds Cup champions!