Learn about the Chevrolet Good Deeds Cup
---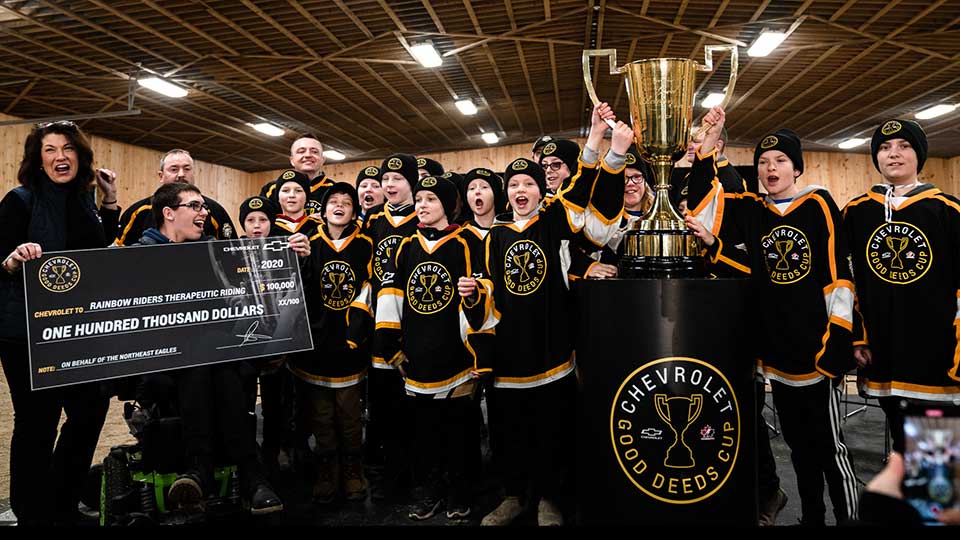 NORTHEAST EAGLES WIN CHEVROLET GOOD DEEDS CUP
The Northeast Eagles, a Peewee C team from Torbay, N.L., have won been crowned Chevrolet Good Deeds Cup champions for the 2019-20 season.
The Eagles rallied their community and raised $21,500 for the Rainbow Riders Therapeutic Riding Centre, a program that helps children with physical, mental and cognitive disabilities. The team will donate its $100,000 prize to Rainbow Riders.
The Eagles edged out the other two finalists, the South Winnipeg Kings and Regina Rebels, for the honour.
---
The Chevrolet Good Deeds Cup seeks to inspire young Canadians to do good by transforming the positive values learned through hockey into Good Deeds within their communities. Along with Hockey Canada, Chevrolet's goal is to develop hockey players on and off the ice.
To participate in the Chevrolet Good Deeds Cup, you must be a Hockey Canada-registered Peewee team ready to do good in its community.
Entering is simple:
Get your Peewee team together and decide on a Good Deed.

Good Deed examples include:

Volunteering at an animal shelter or food bank.
Spending time as a team at a retirement home.
Cleaning up waste around your community.
Be creative! Find a Good Deed that is relevant to your community.
Reach out to your local Chevrolet dealer for help.
Organize a day to go and do your Good Deed. Don't forget your camera, as you will need to film the team.
Create a minute-long video to showcase the Good Deed.
Submit your Good Deed video. Submissions open later this year.
Hockey Canada and Chevrolet, along with the Chevrolet Good Deeds Cup Ambassadors, review each entry to determine the regional finalists. Canadians then get their chance to vote for the top three before an expert panel will decide who deserves to be crowned champion.
Submit your Chevrolet Good Deeds Cup video for the chance to win a $100,000 donation to charity of your choice, Chevrolet Good Deeds Cup giveaways and much more!
Good luck, Peewees!