About Bill Hay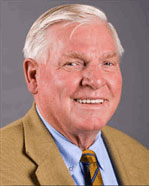 Born in Saskatoon, Sask., on Dec. 9, 1935, Bill Hay inherited athletic genes from his parents. His father, Charles Hay was a goaltender, leading the University of Saskatchewan to the Allan Cup final in 1921, and later served as president of Hockey Canada, helping organize the 1972 Summit Series, while his mother, Florence Miller was a track and field star.
Hay began playing hockey in Regina, Sask., later enjoying a successful junior career with the Regina Pats of the Western Canada Junior Hockey League. Spurning the Montreal Canadiens in the fall of 1955, he hitchhiked to Colorado Springs, Colo., and convinced Colorado College to give him and a friend athletic scholarships to play hockey.
He was an NCAA West First Team All-American in 1956-57 and 1957-58, earning a place on the WCHA First All-Star Team in both seasons, and led the Tigers to the NCAA championship in 1957. Hay is regarded as one of the pioneers of U.S. college hockey helping to develop NHL players. While playing hockey at Colorado College, he also earned a geology degree.
Hay finally attended training camp in Montreal in 1958, but was a victim of the Canadians' dynasty; faced with cracking a loaded roster, he was loaned to the Calgary Stampeders of the Western Hockey League, a Chicago Black Hawks affiliate.
After an impressive season in Calgary, Chicago bought Hay from Montreal. He debuted with the Black Hawks in 1959-60, and won the Calder Trophy as NHL rookie of the year after posting 55 points (18G 37A). Hay centred the 'Million Dollar Line' with Bobby Hull on the left wing and Murray Balfour on the right. In his second season, he was made an alternate captain, and by the spring of 1961 the Black Hawks were Stanley Cup champions.
His career ended at the tender age of 31 after he was claimed by the St. Louis Blues in the 1967 NHL Expansion Draft; Hay finished with 113 goals, 273 assists and 386 points in 506 NHL games, all with Chicago.
With his playing career behind him Hay went into the oil business, though he never strayed too far from hockey. As president and COO of Hockey Canada (1990-95), he played an instrumental role in the merger of Hockey Canada and the Canadian Hockey Association. He also served as president and CEO of the Calgary Flames from 1991-95.
In 1980, Hay joined the selection committee of the Hockey Hall of Fame, serving until 1997. He was a member of the HHOF Board of Directors from 1995 until his retirement in 2013, including 15 years as chairman. Under his leadership, the Hockey Hall of Fame strengthened its relations with key partners, including the International Ice Hockey Federation, National Hockey League, National Hockey League Players' Association and Hockey Canada.