Female Hockey Breakthrough Award
Outstanding contribution to advancing female hockey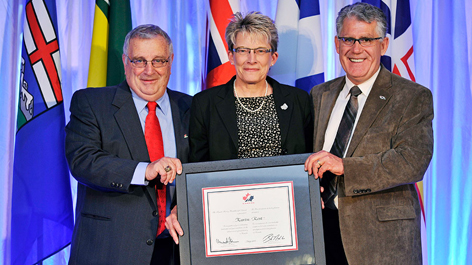 Karen Kost (Edmonton, Alta.)
From the lowest levels of minor hockey to the brightest spotlight of the international stage, there's not much Karen Kost hasn't done in a career in hockey that has now spanned four decades. She has been a tireless proponent of the women's game and has strived to see female officials working at the highest levels of the sport. For this, she is a deserving recipient of this year's Female Breakthrough Award.
Beginning her officiating career in 1979, Karen quickly became one of Canada's top female officials, working her first Esso Women's National Championship in 1986, just seven years after first donning the stripes. She went on to officiate at seven national championships between 1986 and 2000, giving her the national experience and exposure that allowed her to take the next step.
In 1992, Karen was selected to officiate at the IIHF World Women's Championship in Tampere, Finland, an honour she would receive again two years later, this time closer to home in Lake Placid, N.Y. She was also chosen to work the 1996 IIHF European Women's Championship in Yaroslavl, Russia, her final international assignment.
Today, she works as a provincial female development coordinator with Hockey Alberta, taking on the task of recruiting, training and developing officials with hopes they can reach the same levels she did during her on-ice career. She works closely with various leagues to ensure they are getting the best officials possible, while at the same time making sure the officials are being put in a position to succeed and improve.
---
Liz MacKinnon Award
Spousal award of a Hockey Canada volunteer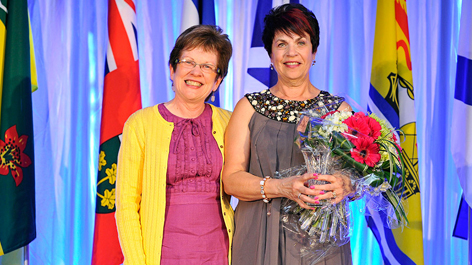 Sylvia Drago (Sudbury, Ont.)
---
Gordon Juckes Award
Contribution to national development of amateur hockey in Canada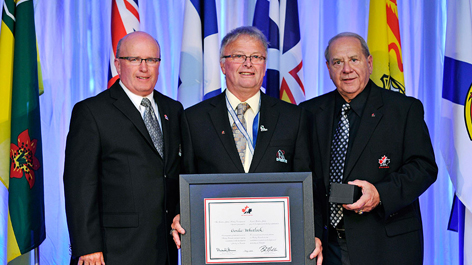 Gordie Whitlock (Cornwall, P.E.I.)
Simply put, few names in Atlantic Canada carry more weight than Gordie Whitlock. Through more than 50 years as a player, coach, instructor and administrator, Gordie has been a pillar of P.E.I. hockey, helping shape the game not only on the island, but across Canada. His accomplishments make Gordie a deserving recipient of the Gordon Juckes Award for outstanding contributions to the development of amateur hockey in Canada.
He spent 43 years coaching on Prince Edward Island at every level – varsity, Midget, high school, Junior B, Junior A, university, under-17, provincial teams and senior. His teams won countless championships, and he was behind the bench in 1991 when the Charlottetown Islanders claimed the Allan Cup, becoming the first, and to this day only, P.E.I. team to win Canada's National Senior Championship.
Through his playing and coaching days, Gordie earned both respect and admiration at all levels of the game, from minor hockey to Hockey Canada's Program of Excellence. A teacher by profession, his skill as an educator, coupled with his quiet demeanor, competitive spirit, knowledge of the game and ability to handle players of all ages, made Gordie one of the best coaches in the history of P.E.I. hockey.
Gordie has had a long and prosperous relationship with Hockey P.E.I., starting in 1994 when he took over as coordinator of the province's Program of Excellence. He also served as technical director from 1996 to 2005, and spent six years as chair of Hockey P.E.I.'s development council. He was elected as vice-president of Hockey P.E.I. in 2005 and in 2008 took over as president, a role in which he served until 2010.
---
Officiating Award
Outstanding contribution to officiating at the branch and national level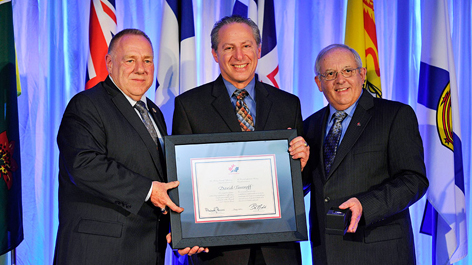 David Taveroff (Mont-Royal, Que.)
For more than 40 years, David Taveroff has dedicated himself to the game of hockey – not as a player or coach, but as one of the most respected officials in the game. As an official on the ice and supervisor and administrator off of it, David has seen and done it all in the game, earning himself this year's Hockey Canada Officiating Award.
From the first time he stepped on the ice as a linesman in 1972, David quickly earned the trust and respect of those around him, taking over a referee-in-chief in the Town of Mount Royal just three years later. He held that position until 1983, when he moved up to become referee-in-chief of the Lac St-Louis region.
It was around this time that David began his career as a linesman in the Quebec Major Junior Hockey League, one that continues to this day and has included more than 1,000 regular season and playoff games. He also spent 13 years working games in the American Hockey League, and was selected to officiate at the 1993 IIHF World Junior Championship in Sweden, allowing him a chance to work with and learn from some of the best officials in the game.
He sat on Hockey Quebec's instructors committee from 1990 to 2005, has been a member of the organization's officiating committee since 2005, and has been a part of Hockey Canada's officiating development committee since the late 1990s, sharing his knowledge at a national level.
---
Hockey Canada Order of Merit (East)
An individual who has served amateur hockey faithfully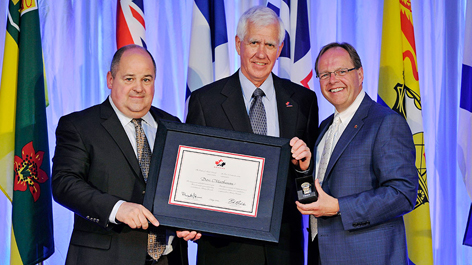 Don Matheson (Sydney, N.S.)
Don Matheson's introduction to volunteering in minor hockey was like so many other Canadians – in the late 1970s, his son's minor hockey team needed a coach, and Don stepped behind the bench. Little did he know, it would be the start of a 30-year relationship with hockey not only throughout Nova Scotia, but across Canada.
His volunteer career began as treasurer in Cape Breton County before taking over as president of the association, which led him to the position of regional director with Hockey Nova Scotia's minor council, giving him a look at the inner workings of the provincial branch.
He moved higher up the Hockey Nova Scotia ladder when he took over first as chair of minor council, followed by a time as vice-president of operations before reaching the pinnacle of hockey in Nova Scotia when he took over as branch president in 2009.
Along the way, Don was honoured with the Hockey Nova Scotia president's award in 2001, given to an individual who has made a remarkable contribution and has provided outstanding service to amateur hockey throughout the province, and in 2007 was named the organization's volunteer of the year.
---
Hockey Canada Order of Merit (Central)
An individual who has served amateur hockey faithfully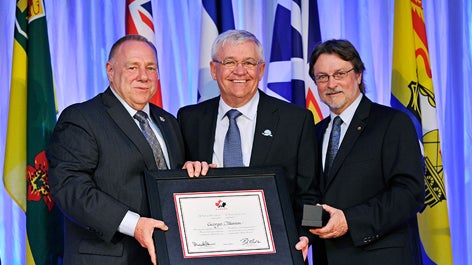 Georges Marien (Longueuil, Que.)
Like any good Canadian, Georges Marien got his start in hockey as a player, taking to the ice as a young boy in Montreal. But while he wouldn't follow in the footsteps of Richard, Beliveau or Cournoyer, Georges has forged himself a tremendous career in the game in other ways.
Following six years as a Midget coach in the early 1970s, Georges took a step up the ladder to Junior C before taking over as head coach and general manager of the Junior B Montreal Turbos in 1980. After four seasons with the Turbos, he returned to the Midget ranks as coach and general manager of Montreal-Concordia, later Montreal-Bourassa, adding governor duties to his role in his later years with the club.
The Quebec Major Junior Hockey League came calling in 1991, with Georges becoming general manager of the St-Jean Lynx, a position he held until 1994 when he returned to the Quebec Midget league as its executive vice-president.
He pulled double duty during this time, serving as general manager of the QMJHL's Rouyn-Noranda Huskies for one season in 1998-99, remaining in his Midget position until 2002. Since 2004 he has been the league's executive director, and it is here that his impact has been felt the strongest. His devotion to and passion for the development of the game, particularly at the Midget level, are well known, and it is his efforts that have made the Quebec Midget AAA Hockey League what it is today.
---
Hockey Canada Order of Merit (West)
An individual who has served amateur hockey faithfully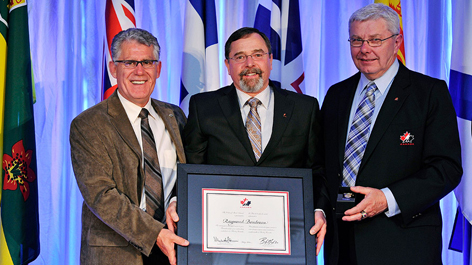 Ray Boudreau (Spruce Grove, Alta.)
It goes without saying that without volunteers, there would be no minor hockey across the country. Minor hockey associations and Hockey Canada branches would simply not be able to function without the countless hours put in by hundreds of thousands of Canadians. Ray Boudreau is one of those volunteers.
He's not a coach or an official or a team manager, but as a retired RCMP officer, Ray's experience in social and family services has allowed him to become something of an expert in dealing with a number of different off-ice matters. A key member of Hockey Alberta's game and conduct committee, Ray was instrumental in the development of the organization's game and conduct management resource manual, an industry-leading document that covers everything from injuries to abuse, harassment and player safety.
As part of the game and conduct program, Ray worked tirelessly to help develop the overall philosophy of Hockey Alberta's Play Shaping Minds, Attitude & Respect Together program, or PLAY SMART, which ensures the environment in which all Hockey Alberta activities take place is as positive as possible for everyone.
Taking his knowledge to the national level, Ray became a member of the Hockey Canada Risk and Safety Committee and has served on various national committees, including the national drug policy, Respect in Sport and complaint handling.
---
Outstanding Volunteer Award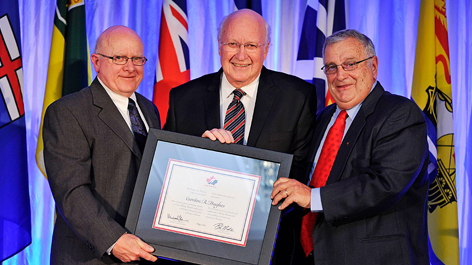 Gord Hughes (Mississauga, Ont.)
From the Mississauga Friendship Association to the Mississauga Canoe Club, there are few organizations in the Greater Toronto Area that Gord Hughes has not given his time to over the past 42 years. But hockey has been his passion, and that passion, along with the diligence he has shown towards bettering the game, has earned him this year's Hockey Canada Outstanding Volunteer Award.
In 1970, he joined the Clarkson Hockey Association, serving as director and area representative with the Mississauga Hockey League until 1977 when he became Clarkson's first vice-president. He moved higher up the Mississauga Hockey League ladder in 1979, taking over as director and vice-president of the MHL, and ascended to the presidency in 1981, overseeing the league at a time when it enjoyed some of its most remarkable years.
As Gord's administrative abilities gained recognition, he moved on and accepted new challenges as director and second vice-president of the Metropolitan Toronto Hockey League, rising to first vice-president while also serving as a director of the Ontario Hockey Federation from 1995 to 1999, getting a tremendous look at the inner workings of the provincial branch.
In 1999 Gord returned to his Mississauga roots, taking over as director of the Mississauga Chiefs. It was his dedication and considerable expertise in the community that allowed the Chiefs to be one of the most respected and competitive teams in the upstart National Women's Hockey League during his two seasons with the team.
---
Hal Lewis Award
Hockey Canada staff person of the year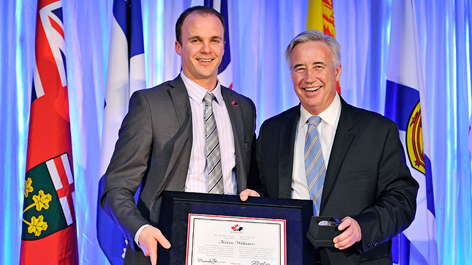 Kevin Webster (Calgary, Alb.)